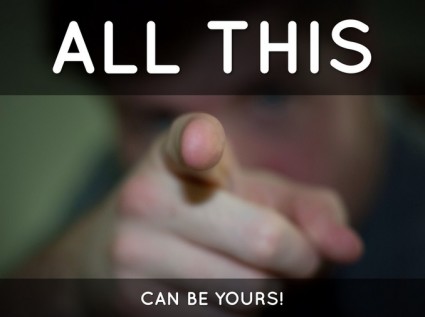 When I first moved to Australia, I caught a few minutes of the equivalent of Good Morning America on TV.  It reminded me of the morning program in the USA until something unexpected interrupted the banter, pseudo-news and discussion.   They were teeing up a segment on nasty carpet stains and I was curious enough to keep on watching.  Finally, one of the hosts of the show headed over to do the segment and instead of tips and tricks, it was a ten minute infomercial with a full-on sales pitch for some product.  It clearly wasn't the news or a personal interest story but if i wanted to cough up $29.99 I was in luck – agents were waiting for my call.  I was fascinated.
In the US, we don't have infomercials integrated into our television programs.  That's not to say that we don't have an exceptionally large amount of product placement which is a more subtle form of advertising. In this case, it was so… blatant, unwelcome, and as a viewer I felt like it broke the bonds of our implied contract.  I'm looking for information and to be entertained, not sold.  Needless to say, I've never watched that morning program again.
I've seen similar behavior from business leaders.  I vividly recall presenting the first page of a SWAT analysis to senior level clients and my partner, the SVP, jumped into the conversation.  Instead of reinforcing findings, or asking questions to deepen our understanding, he spent 15 minutes on why our solutions (from another division) are a superior service in the market and would definitely add value given their challenges.  It was a hard sell, and a long sell, and unwelcome not only by the client, but also by the consulting team present in the meeting.  We were hijacked and couldn't flip the channel.
People don't want to feel deceived but instead spoken to as intelligent human beings. (Click to Tweet)
10 Signs You're an Infomercial, not a Leader
1. Fake FAQs 
Instead of opening the floor to Q&A, you pre-write "frequently asked questions" that nobody has actually asked.  You just share the info that you want to provide.
2. Present, Don't Discuss
Rather than having a group discussion with the team and brainstorming on current challenges, you decide that each team meeting will be used only for customer overviews – presented by you.
3. Push, Don't Pull
When you give team members a new assignment, instead of asking what they think, you don't stop talking for 20 minutes about why it's such a great opportunity and voila, the meeting time is over.
4. Focus on Show, Not Heart
People's eyes always seem to glaze over when you're talking about the CEOs upcoming visit and why it's important to put on a great show, dress-up, clear desks etc.
5. Me, Me, Me
You use the word "I" a lot and are constantly selling your ideas:  I think, I believe, I want, I need.  Not much mention of "We."
6. Wear 'Em Down to Win
You are so confident that you're right, when you discuss with people their alternative ideas, your strategy is to wear them out with why you're right.  They're bound to cave once they see the light.
7. Covert Manipulation
At home, you decide that the family should go on vacation to London.  Instead of bringing  up the idea and building excitement, you bring up London in every conversation, share news stories and random facts.  People around you begin to think you're an Anglophile and are not surprised by the time you suggest the holiday.
8. Never Take a Breath
The actors in infomercials are constantly talking: "Amazing!  Look, that egg didn't stick at all" but there is literally no listening.  If you are talking for 90% of a meeting, and listening for only 10%, you're suffering from infomercial syndrome.
9. We Want to Hear from YOU (Later)
After you present your plan at the team meeting, instead of having a discussion and gathering real-time feedback, you suggest that people email you after the meeting with their thoughts or use the anonymous feedback in the cafeteria (that you'll never, ever check)
10. Tone Over Content
You think that the best way to get people excited is to show them that you're over the top excited.  You use big gestures, flowery words and an upbeat tone when you talk about how the system isn't working and the client is unhappy. I love a good informercial when I know that's what I'm watching but I'm still left wondering about what they don't tell me.  I see it for what it is, head on, big time, sales.  When I am watching a leader make a veiled pitch, I'm left annoyed and also wondering what's left unspoken.  
As a leader, when you become a walking, talking infomercial, you're not fooling anyone.  (Click to Tweet)
Just because people can't turn the channel doesn't mean that they're engaged with your message.  Employee engagement and customer engagement is a two way street and it starts with LISTENING, not talking or selling.
BREAK THE FRAME ACTION: Give people a break from your agenda.  If you feel the need to sell something and it's not a sales call, ask yourself why.  What do you really want?  How do you want people to feel?  What do you want people to remember?  What do you want your leadership legacy to be?
For coaching, consulting or speaking Let's Connect!