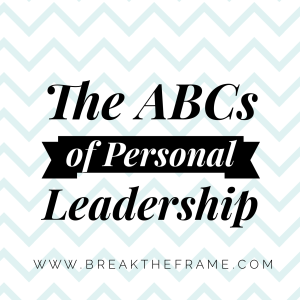 Before school today, I challenged my kids to see who could say their ABCs the fastest and still say every letter. I even wowed them with my ability to say the greek alphabet in less than four seconds. Once they were safely ensconced in their classroom, it's no wonder I was still humming the alphabet.
The ABCs, the most basic elements of the English language. Aha! A challenge for the day. What are the ABCs of personal leadership? I began to play around with some concepts.
There are a billion words and phrases that fit well with the ABCs of personal leadership like A is for authority, B is for brave, and C is for communication. All true, yet leadership shows up in the doing, not the concept alone.
I'm a believer that change requires ACTION. Hope you'll find a to-do or 26 on the list below.
The ABCs of Personal Leadership – Do you know them? Live them?
Always show that you care about others, not only yourself.
Be true to your word.
Create change by stepping forward instead of waiting for someone else to go first.
Deepen conversations by sharing your honest thoughts and ideas.
Engage fully in all that you do.
Face your fears and inspire others to do the same.
Greet obstacles with an open mind and explore new paths forward.
Hold both hope and faith as your partners when making a leap.
Invite connection, seek it out, and offer your hand first.
Jump at new challenges rather than dismissing them as too hard.
Keep trying even when you're failing. (hint: shift)
Let others help you.
Make mistakes – it means you're doing something you can't already do.
Notice (and acknowledge) when others do great things.
Open your mind and your heart to others.
Practice patience.
Question relentlessly not only to poke holes but also to learn and improve.
React without overreacting.
Smash your excuses to smithereens.
Test, adjust, test, adjust, test, adjust (you know where this is going) success.
Visit people where they are in lieu of always making them come to you.
Wonder.
X-ray the situation. Look below the surface before jumping to conclusions.
You've got to believe that you can do it.
Zip your lip and listen.
Break the Frame Action: 
What is the one thing on this list that your gut is telling you to dare yourself to do today?
Pick one and do it with intention and focus for the next 24 hours.
24 hours from now, ask yourself, how did it go? You may want to journal your reflection. (Then refer back to "T")
This week, I took on a dare to write every day for thirty days. I don't have a plan or a fancy schedule, just my commitment and desire to unearth some creative sparks where currently all that exists is a deep, dark, rut.
I was writing about personal leadership but faltering with my own.
Hate to admit it.
Screw the rut, it's not where our personal leadership can shine.
If you're ready to dare yourself to get out of your rut, I hope you'll follow and play along.
I'd love to hear your ABCs of personal leadership? What's on your list? What's your dare?