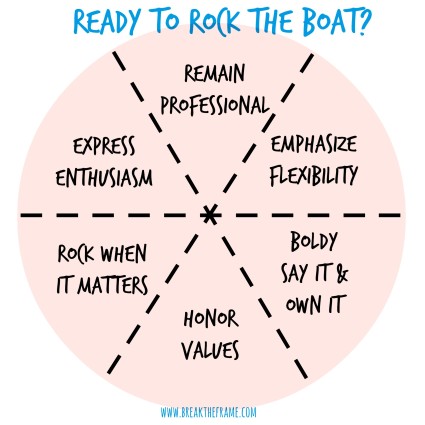 In the early 90's, I was two months into my first big post-college job working for a major consulting firm.  I was excitedly waiting for my first assignment and had recently finished my six week training and indoctrination program.  I was ready to travel, work hard and be the best darn change management consultant I could be, but one thing was missing.  I actually wasn't prepared to go anywhere and do anything.  I knew of a project that was being staffed that didn't align with my personal values and I was sick at the idea of playing staffing roulette with my silence.  I took a deep breath, told myself, "don't be afraid to rock the boat," and knocked on the Staffing Lead's door to talk to her about my dilemma.
I refused to buy into the idea that new hires are supposed to stay quiet.  In the end, I was staffed on a first project in the financial services industry and not the tobacco industry.  I was relieved that my courage created a positive outcome and I doubled down on my passion for my work and loyalty to my organization.
Wondering how you can take a chance and speak up for your needs?
Don't be afraid to rock the boat.  Follow this approach to start rockin' when it matters most. 
Express enthusiasm.
Rocking the boat does not mean that you're unhappy to be there.  In my staffing situation, I expressed my excitement for the challenges ahead, for the work and the organization because it was all genuine.  Be brave and let your enthusiasm shine through; it's positive, contagious and brings connection.
Remain professional.
Lose the temptation to hand over the wheel to your emotions.  Stay focused on what you want to express and why it matters to make the impact you want with intention instead of by chance.  Tears and raised voices make it hard to hear your message through the histrionics.
Emphasize flexibility.
Having a new idea, approach, request or suggestion doesn't require you to reign in control of absolutely everything.  In fact, marrying flexibility to "your ask" may increase your chance of getting what you truly want.  I asked to not be staffed in the tobacco industry, yet I emphasized I would fly anywhere, work in any other industry and do any work required.
Boldly say it and own it.
It's tempting to dance around a request or bury it under ass-kissing when you're afraid of rocking the boat.  Stop mulling over silly thoughts that people will think you are too demanding, crazy or annoying.  Be clear, bold, say it and own it to ensure that when you walk away, there is no confusion and people understand your request or suggestion.
Honor values.
Know why you're speaking up instead of staying silent.  Some people constantly speak up because they just can't stop themselves while others speak up because any other choice would not be honoring their values or leadership.  One feels disrespectful and ego-centric and the other is values-centric.  Which leader do you want to be?
Rock when it matters and roll when it does not. 
Willy nilly requests and suggestions turns down the volume on your personal leadership and influence.  Maximize your impact and the likelihood that you'll influence the outcome by picking and choosing vs. constant rocking.
Never be afraid to rock the boat when it matters. 
To you.
To your team.
To shared success.
[Tweet "Change starts when one person chooses courage over silence."]
Break the Frame Action:
Split a piece of paper into two columns, write Speak Up at the top of one and Stay Silent at the top of the other. Ask yourself the questions below and don't censure your responses.  Write down whatever comes up whether it is from your head or your heart.
What's the worst that can happen if you speak up?
What's the worst that can happen if you stay silent?
The answer's in there.  I promise.
When was the last time you stopped being afraid to rock the boat and asked for what you need, even when it felt like a big leap? What did you learn?
For coaching, consulting or speaking Let's Connect!