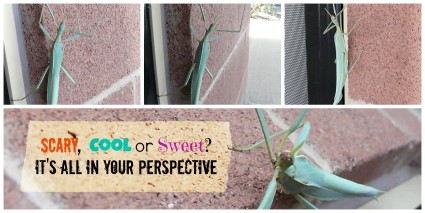 My phone was ringing early this morning.  I knew it had to be important, so I picked it up expectantly.  "Hello?"
My husband lovingly gave me a warning:  "I don't want you to be shocked when you leave the house.  There is a huge bug right outside of the door.  I wanted to let you know just in case it's still there."
Stress Comes In, Logic Goes Out
My thinking began to spiral…
He gave me a heads up, it must be bad.
Should I go out through the back door and avoid the front for the rest of the day?
Will it be a biting variety?
Watch the Stress Wildfire Grow
It seemed logical to send my children to the door to check out this bug of now mythical proportions.  They thought they saw something moving but couldn't be sure.  My son began to conjecture that it's a fast runner and we needed a game plan to minimize all risk.  Clearly, we needed to adjust our routines to be able to outrun the bug on our way to the car.
Will Ignoring Make it Disappear?
I couldn't think about the bug and teeth brushing, breakfast and shoe tying at the same time.  I put it out of my mind to focus on the tasks at hand.  At this point, despite my focus, I was running late to get the kids to school.  Fortunately, I  didn't have any client meetings so I did what every parent has done at one time or another, I threw a shirt over my nightgown and got ready to hop in the car to zip them to school.
That's when we opened the door. 
Everyone Reacts in Their Own Way
My kids made the leap over the bug, with some squealing, hopping and jumping.  Unfortunately, nobody was squealing as loudly as I was.  It had moved exactly where I needed to step.  I yelled to the kids from the safety of the screen door that if they started running to school now, it's possible they would get there before the bell.  They both turned to sprint but my son looked back and said, "Please give us a ride.  I don't want to be late."
He needed me to step up, suck it up and be a leader, not a scared, stressed fool.  I'm 66 inches tall and this bug was no more than six.  I made the leap too, despite my overwhelming and irrational fear, because my children, my team, needed me.  They needed me to show them that it's OK, that a bug is just a bug and will not beat us and, most importantly, they needed me to show them that their needs (and success getting to school on time) was more important than my fear.
As I pulled out of the driveway to pick up the kids jogging halfway down the street, I watched the bug climb up my door frame.  It was continuing to test me.  Would I sit in my car all day with no money, no computer or phone, in my pajamas or would I take on a more powerful perspective and do what I needed to do?
Your Big Scary Bug May Not Be as Big and Scary as You Think
Once safely back in the house I noticed my daughter didn't bring her hat to school and the bug and I would meet again.  This time, I didn't squeal or leap, I moved with purpose.  I turned and looked at him in the eye with more curiosity than fear.  With curiosity, he began to look simply more green and leggy than big and scary.  When I transformed my way of seeing, he transformed his way of being.
Do you have people on your team or in your organization that are a lot like my new pet bug?  They look big and scary but it's just the way they've evolved to protect themselves?  If you look again, in a new way, your fresh perspective may transform your relationship.
How do you turn off stress to embrace success?
For coaching, consulting or speaking Let's Connect!