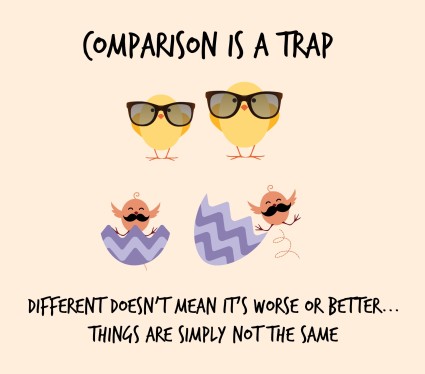 Lately, I've been thinking about all the things my kids will never have if we continue to live overseas long-term.  No summer camp, no religious community, no holidays with the grandparents, or vacations with the cousins, US History, Spanish classes, SAT prep or a prom.  I see an endless list of things that will "hurt" them because of their absence, but the truth is that I don't know the impact any of it will have in the long-term.  I find myself teetering on the edge of the deep, dark, endless chasm of the comparison trap that I'm determined to avoid.
The one thing I do know with absolute certainty is that their childhood is a far cry from the one I had growing up outside of Philadelphia.  I need to remember that even if we still lived in the USA, my children's lives would never be the same as mine.  They are not my mirror or appendage, but on their own unique, dynamic and exciting adventure.  Once and for all, I need to break free from the comparison trap in service of my happiness, health and relationship with my family.
Differences Are the Product of Evolution
Recently, my daughter asked me if when I was growing up I had a phone that attached to the wall by a cord.  She watched a TV show that had a corded phone on her iPad on Amazon Instant Video.  She couldn't believe it when I told her, "Sure did!"  All I got as a response was, "Wow."
I cannot predict the future, but here's what I do know:
The future is coming.
Change is here.
Life will never be the same.
Every generation has their "corded phones."
The question I'm left pondering is how do you and I learn to let go of our past to embrace the future without the baggage of constant comparison?  Maybe the truth is that we don't need to let go but instead simply step mindfully into the present moment.
Mindfulness frees us from worry about better, worse or different and pulls us into what is right now. Stress proliferates quickly when you're constantly stuck on the thought that different can only be worse.
Change Activates the Comparison Trap
Individuals and organizations have this flaw in common, assuming that change will strip all the best from the past leaving us with questionable remnants. That's the heart of why companies talk a good game about innovation, a willingness to take risks and embrace failure, but so few do.  It's painful to let go of the past and accept that someone else has a vision for the future and it's darn good.
Things change, people grow and evolve, technology continues to leap in the blink of an eye, but some things are always the same no matter what generation we call our own; We all want to be seen, loved, and know we matter.  My kids may not grow up with Girl Scout cookies or big family Thanksgiving dinners, but they will have a childhood that's uniquely theirs and they are deeply loved. Ultimately, the trap is focusing on the superficial when the similarities that bind us will be forever present.
How do you break the frame of the comparison trap and let go of "that's the way we've always done it" for new possibilities?
For coaching, consulting or speaking Let's Connect!