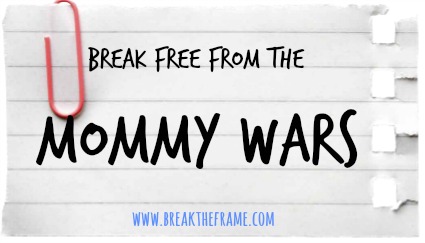 Over a decade ago,  I made a choice to leave my leadership position and successful career behind to stay home full time with my children. Many of the women I met at Mommy and Me told me I could never go back to the same pay or position level so I better throw myself into my new life. From my first trepidatious step into motherhood, I was ready to break free from the Mommy Wars.  It was a battle I didn't want to fight.
I see now that those women were telling me their fears masked as helpful advice. Fear isn't truth and is often disguised as the stories that ultimately hold us back in the shadows instead of empowering us to fully step into the light.
I met many stay-at-home Moms and Dads during that time and more than a few really wanted to re-enter the workforce but convinced themselves that it was impossible. Their skills were tired, knowledge was passé and more importantly, many felt embarrassed by their choices.  They made assumptions about the judgement of the world at work and fired back with self-doubt and self-criticism wrapped in self-righteousness.
Ultimately, the right choice for me was to return to full-time employment, yet it was not the right choice for many of my new friends.  We drifted apart, as if we were on opposite sides of the invisible Mommy Wars.  In truth, my only view on the battle between the working mom and the stay-at-home mom is that everyone should do what's right for them… not what's right for me.
If you're caught in the push and pull between family and work, you're not alone.  Whether you jump ship in or out (depending on your perspective) what you really need is the courage to vulnerably listen to what your heart is telling you is right and act on it.  Work-life balance is made up of hundreds, if not thousands, of personal choices and not simply defined by the label of working parent or stay-at home.  Trust me, parents that stay home with their children are not in balance heaven.  Just like working parents and many childless working professionals, if they have an hour a day for themselves, it's something to celebrate.
If you're caught up in shoulda, woulda, coulda…
If you're caught up in I'm right, they're wrong…
If you're caught up in a fear of being totally and utterly stuck…

It's time to break the frame. 
Working Parent, Stay-at-Home, No Kids, Dog Mom…  
Break the Frame of I can't. 
You set your own boundaries.  You decide what you're willing to tolerate.
Break the Frame of I shouldn't.
Who is making your choices?  Empower yourself.
Break the Frame of not now. 
The time is now.  Why wait?
Break the Frame of must do. 
Who says?  Make sure it's you.
Break the Frame of not for me. 
As my mother always says: "You don't know until you yo."  Not for you is still OK for others, right?
Break the Frame of justa. 
You are so much more than your title, child status, clothes or the car you drive.  You are not justa anything.
Make the Leap
You are a human and figuring it out as you go.  Do what's right for you and stop worrying about judgement, blame or embarrassment.  Follow your heart, you know the path.
For coaching, consulting or speaking Let's Connect!
Are you a parent or educator who wants to inspire leadership in children?
Download your free copy of the Parent's Guide to Leadership.  It's filled with practical tips, engaging activities and creative approaches that you can use immediately.