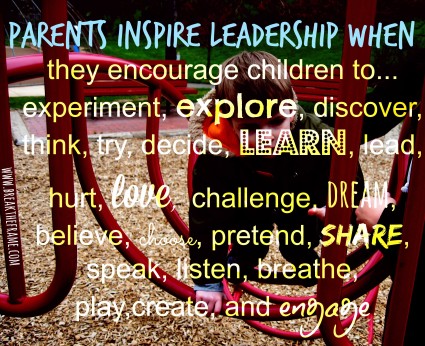 This morning none of us wanted to get out of bed to start the day.  There was a chill in the air and the covers were cozy.  Still, the kids had to get to school, I had to get working and we all had to get moving.
We stayed quiet, lazily resting, until the very last moment when we all knew we had to move or be late for school drop off.  That's when I started furiously racing around trying to get them into action.  I was not a mindful parent-leader, focused on how parents inspire leadership, I was in full stress mode and leading the push to get us all out of the door.
Where are your socks?
Did you brush your teeth?
Put a long sleeve shirt on under your uniform – it's cold!  (Hello, Australian winter!)
My kids quickly got grumpy and started to disagree with me.
I don't want to wear jeans!
You always tell me to brush my teeth!
I'll wear a jacket!
Enough!  I told them: Guys, I'm trying to help.  You do what you think is right.  
I walked into my room to get myself ready and shut the door. As I brushed my own teeth, I was grumbling to myself.  I give them advice because I love them, they do their own thing.  I tell them what to do, they do their own thing.  I demand they do it my way, they do their own thing.  How do I get through to these kids?  How can I be a parent who inspires leadership and not one that forces outcomes?
They Have Minds of Their Own – Imagine That!
I admit, a big part of me really wants my children to always be well behaved and do what I tell them to do without a fight.  Realistically, that's an unlikely event in our house.  As parents, we often get down on our kids because they have a mind of their own.  It feels like instead of hearing a word we say, they just do what they want to do.  Many parents, like many leaders inside of organizations, try to break people down to get them to comply.  Is compliance really what we're after?  What if we, changed our frame to ask, "How can parents inspire leadership instead of trying to control people and outcomes?"
Get Ready to Be Surprised
A few minutes later, I opened the door and was met by two kids and their enormous hugs.  My son was wearing his long sleeve shirt, teeth were brushed and they were ready for breakfast.  I walked away and they made good choices,  imagine that. They didn't do exactly what I told them to do or suggested, but they heard the important parts and acted on it.
I got through to them because I made strong suggestions AND gave them the space to do their own thing.  However, I'm not going to lie, it seems like there are hundreds of times a day that my words fall flat and do not influence their behavior at all.  Still, it's our job as parents and educators to not give up on children just because they act out or don't do what we tell them to do.
Parents are role models for their kids as they become future leaders.
I don't want to teach my children to stand over someone constantly saying "Do this, not that."  It can be challenging, but also much more effective to share, give suggestions and then give someone the space to do, think and be.  Fostering personal leadership in the next generation requires us to let kids make mistakes, learn and grow, not only to protect them and make all of their choices for them.  Truly, parents inspire leadership when they do one of the toughest things out there, let go and let their children learn to lead.
My advice to leaders and parents:
Share your knowledge, experience and suggestions and then let people make their own choices (and they will not always be good choices).  Let them learn that choices have consequences.
It's OK to walk away, just don't disappear.  Be accessible, not overbearing.
Your people have got this – what they need from you is trust.  Believe in your team. 
Recognize strengths instead of only reprimanding bad behaviors.  What gets recognized gets repeated. 
We need to raise a generation of people who will make strong choices, not only because they want to be popular, but also because they have the confidence to choose what's right for them.  Learning to make thoughtful and empowered choices starts small and it starts young.  It's essential that they know it's their responsibility to consider possibilities, make decisions and take action.
Whether in the home or at the office, by acting mindfully, we can cultivate a generation of thinkers and choosers… not blind do-ers. 
What's your experience?
For coaching, consulting or speaking Let's Connect!
Are you a parent or educator who wants to inspire leadership in children?
Download your free copy of the Parent's Guide to Leadership written in partnership with Karin Hurt of Let's Grow Leaders.  It's filled with practical tips, engaging activities and creative approaches that you can use immediately. You'll also receive updates on our upcoming children's picture book, I'm Not a Leader.