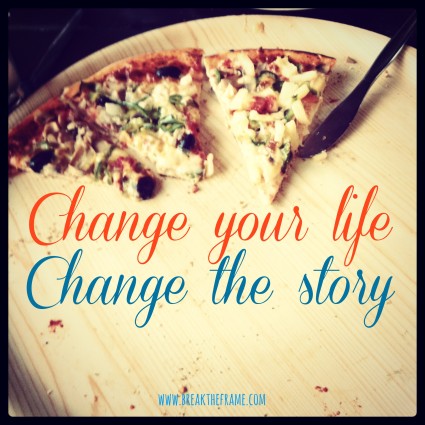 Have you ever noticed people in passing and it's as if your mind takes a snapshot?  You may not know them, but for some reason, their image sticks with you and becomes intertwined with the stories of your life.  What's fascinating, is that these flashing images, these moments only seen in your mind's eye, aren't static.  You grow, your world-view changes and evolves and as you change your life, you change the story.
Years ago, we were out to dinner at a boisterous and popular pizza restaurant where you had to call ahead to reserve your dough.  It was more than simply a quick bite, but a delicious occasion to be anticipated and savored.  On this particular night, every table was filled with families and friends and there wasn't an empty seat to be found.  As we waited for our food, I decided to partake in one of my favorite activities, people watching, and that's when I saw them.
There was one table where a young couple was sitting.  The reason they caught my eye wasn't because of their age or odd-ball behavior, it was because they were silent.  Not a single word was exchanged as they sipped their soda and ate their slices in a room filled with vocal energy and connection.
In my early 20's at the time, I made up a story about what must be going on with these individuals. That night, I assumed that they had been arguing, but neither one was angry enough to stay home and give up on their pizza extravaganza.  After all, if they were happy, why wouldn't they be speaking?  To me, silence equaled anger and that was how I wielded it, as a tool that was deeply connected to emotion.  It would come out to play, like my personal lightsaber, and was more powerful than any words I could shout.
A few more years passed before that memory popped up again and this time I was well into my 30's.  Of course, these strangers, this couple, came along with the memory like a package deal.  It was really interesting that this time, it was the same scene, different story.  Their silence had transformed in my memory to sadness and isolation.  The husband and wife were present with each other, but lost in their own heads.  They were out to dinner because that's what couples do, but even the shared activity didn't bring connection to their relationship.  I was looking at people co-existing, not fully living.
Just this past week, I thought again about this family moment from many moons ago when I was still living in Philadelphia.  I also allowed the image of the couple to resurface and yet again the story had changed.  As I can see them now, I've decided that they didn't need to speak to enjoy the moment.  Words were unnecessary as they were both fully present.  I now realize that they could be in silence and be with the energy of the room, be with each other without words, without sadness or anger or isolation.
The picture didn't change, I've changed. 
You Change and You Change the Story
Memories transform from pain to compassion
Moments come alive with hope in the absence of fear
Relationships move and evolve as you grow and learn
Break the Frame Questions
What stories are you hanging on to that it's time to revisit?
How are the stories you've been making up holding you back?
What learning do you have from your life that has changed the way you see and experience the world?
Who's story do you own?  Yours or someone else's?
What do you need to let go, to embrace new possibilities?
How is holding on showing up in your life or leadership?
For coaching, consulting or speaking Let's Connect!