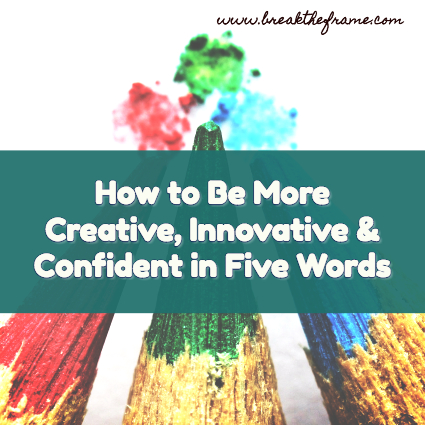 Over the years, I've coached senior executives, led workshops for leaders at all levels and most recently ran a leadership program for 5th graders at a local primary school. While the complexity of their lives and responsibilities varied widely, some of the core issues that emerged were common. 
Everyone was a little afraid that they were doing "it" wrong and would be caught. Each one held back on how far they'd unleash their creativity. All also desperately wanted a pat on the back when they did it right and stayed within the known parameters for success.
In one of my early workshop sessions at the primary school, child after child came up to me and asked for a new piece of paper for their notes. They messed up, wrote too big, or drew a diagram that took up too much space. In general, their paper didn't look the example I held up in front of the classroom. 
I told them it looked fine to me and encouraged them to use all the space, write around the edges; make it meaningful to them, not me. They seemed unsure, and some of them sneaked clean sheets when they thought I wasn't looking. 
At the beginning of the next week's lesson, I started with five words that changed everything. 
"You can't do it wrong."
I repeated myself and walked around the room.
I looked each child in the eye. 
"You can't do it wrong."
That lesson, I saw some of the most creative output from the group than I'd seen in weeks. 
I'll bet you feel the weight of doing it wrong. People depend on you, look up to you and need you to be right. 
The thing is, when you feel that constant pressure to be right, you start to play small. You can't take big chances when being right is the goal and the only measure of success. 
When you're creative and innovative, and at your best, there is no wrong. It's all new, all unexplored and all an adventure. In this place, this mindset, every flop is information, not failure. 
When I was an actress, I had auditions where I tried to be the character that I thought the director was looking for, yet didn't get cast time and time again. When I finally made bold choices that felt uncomfortable and crazy, there were times I still didn't get cast, but then I finally did time and time again.
Maybe my early auditions were wrong, and I got a pass, but they were also right because they led me to let go. Without those wrong turns, I would never have unleashed all that was within me. 
Your turn. Ready to be more creative, innovative and confident? Start here. 
Tonight, when you're alone in the bathroom after you've brushed your teeth, look at yourself in the mirror and speak these five words aloud: 
"You can't do it wrong."
If you want five more, try:
"I know what to do."
"I can figure it out."
"I am creative and resourceful."
"I won't hold back now."
Don't feel silly. You're the only person in the room. After all, there is no instructor in the front of the room looking you in the eye and telling you what you need to hear. 
We all want to be successful, and we all want to get it right. What's wrong with being wrong? Every wrong turn takes you closer to finding your way to where you're meant to go.
Break the Frame Action:
If you know someone who needs to hear these five words, tell them. Do it today or tomorrow at the latest. Whatever you do, don't wait. Maybe they're on your team, your child or best friend. We can all benefit from someone looking us in the eye to remind us of the lesson too quickly forgotten. 
Do you want to be known a person who is always right or a person who dives in with confidence and creativity? The choice is yours… you can't do it wrong.