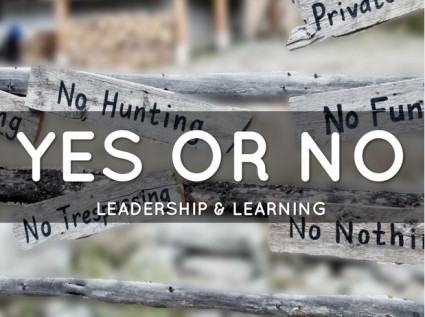 I've caught myself saying "no" a lot recently and it's usually followed by:
Don't do that!
Are you crazy?
Watch out!
Stop it!
I haven't been talking to my team, but usually to children.  Still, when we're constantly telling others to stop what they're doing, and we point out every single bad idea, they'll  probably do it again… and never really grasp that the idea, indeed, is a bad one until a rock hits them on the head and knocks the lesson into them.
First No of the Day:
My son and his friends decided to throw rocks at the blacktop as hard as they could to have them break apart and make geodes.  One of his friends had the awesome idea that instead of just aiming for the ground, maybe it would be more spectacular to throw the rocks in a big arc through the air and see what happens.  Uh, no.
Second No of the Day:
A little boy I don't know decided to crawl under a soccer net and try to drag someone else's dog on a leash through the net.  Big time no!
Third No of the Day:
Some kids at school were crowding around a fire hydrant and putting in a great team effort to turn the knob and get some water to flow.  Bad idea! No!
I began to wonder, did I intervene and say "no" this often when I was a VP?  Do I tell my coaching and consulting clients "no" all day every day?  No.  Hummm. Why?
"No" may stop people, but just wait until you're not around and guess what will happen?  ~ Alli Polin (Click to Tweet) 
Whether you're a CEO or a stay-at-home Mom, you undoubtedly make a zillion decisions each day and "yes" and "no" are a part of your daily lexicon.  I'm not suggesting that you or I should become Jim Carrey in "Yes Man" but instead be aware of the balance between "yes" and "no" and tap into the power of "yes" a little more often.
We need to learn some lessons for ourselves.  (Click to Tweet)
Before Jumping to "No," Ask Yourself:
Is anyone going to get physically harmed?
Is the lesson irreversible?
Is the lesson controllable?
Am I more attached to my way than our shared goal to get things done?
Could a "yes" lead to some interesting lessons learned that will deepen the learning and forward the action?
Remember, the goal isn't to drop the "no" but to look for those times you can say "yes." (Click to Tweet)
The Power of "YES":
Yes tells people that they have your trust – you believe that they can do it!
When people come to you with an idea, express your confidence in their creativity with a "yes."
Empowerment comes not only from letting people manage their own work but also saying "yes" to their leadership instead of asserting your own.
"Yes" brings with it possibility – especially when you play with "yes and" and build on ideas to create never before dreamed options.
Learning happens through following the "yes" down a path.  There may be challenges, successes, or plain old dead-ends but along the way they will absolutely learn.
Make the Leap:
Let go of the "No" and let your people LEARN, GROW and DISCOVER new possibilities and failures for themselves.
Let go of the need to protect your people and be a leader that empowers people to become the next generation of leaders.
Teach people to look to their inner-knower instead of looking to you as the ultimate decision maker.
If you say "yes," mean it!  Let go and be a leader that's focused on helping things go right instead of managing what could go wrong.
What has led to your biggest growth as a leader – a "yes" or a "no"?  Which do you find yourself saying more often?
Are you ready to make the leap?  For speaking, coaching or consulting, Let's Connect!