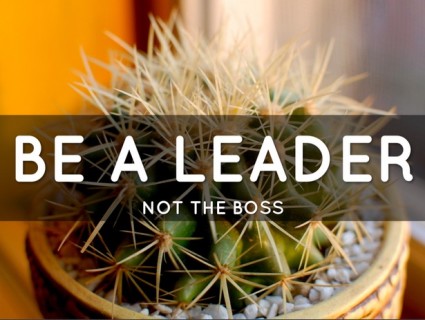 I had a great job.  I was responsible for not only executing on some interesting and fun work but also I was tapping into my creativity daily and reporting directly to the business line SVP.  He was a busy guy so I had a lot of latitude to take risks, offer recommendations and generally make things happen.  Then one day "it" happened.
I was informed that a new VP was hired and I'd be reporting to him moving forward.  As a part of "the new guy's" negotiation process, he made the request that he own my part of the business in addition to the other division he was brought in to lead.  The company needed him; the core of the business was suffering without a strong, permanent leader in the position.  Unfortunately, to get him to say yes to the offer, they threw me in as a part of the deal.  WHAT??!!
I definitely had a chip on my shoulder and I was defensive from the first moment I walked into his office for our meet-and-greet.  Somehow, I walked out of his office an hour later thinking that it would be OK.  What happened?
It wasn't the questions he asked me or what he said to me about who he was or his plans for the organization. What made it OK?
Authenticity
My new boss was experienced yet humble, down to earth, and excited for what we could co-create.  He was a real guy who didn't know it all but wanted to learn.
Honesty
He told me why he requested my division be under his wing.  He was also looking to broaden his skills from recruiting leadership into talent management consulting.  He's a learner and he wants to be in the action, not above the action.
Joy
We laughed together in our first meeting despite the fact that I was ready to hate him.  There was a lightness to his demeanor that invited me to join him with a lightness in my own.
Passion
I could have given him a status report, gotten him up to speed on the business and walked out.  Instead, he wanted to know more about the strategic direction that work that had been completed to date.  I was able to share my passion, not just my trail of accomplishment.  Passion lit me up and drew us both into the conversation.
Before I left his office, I'm not sure why, I told him that I wasn't happy about having a new boss.  I wasn't looking forward to the change but I was looking forward to working with him.  It was as if I had pulled a weight off of my back and had thrown it out the window.
Fast forward several years and multiple positions later…  We moved from subordinate / manager to peer / peer.  He was no longer my boss or manager, to this day he is my friend and mentor.   I credit it to his way of being from day one.
I believe in the power of WYSIWYG.  How do you build trust with new people on your team or with customers?