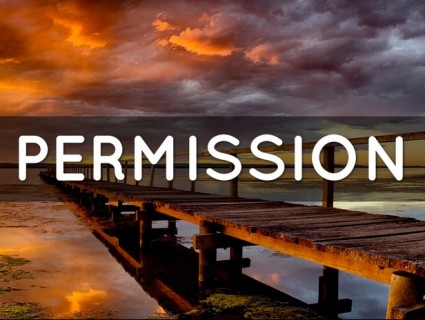 It's Independence Day in the United States and barbecues, celebrations and fireworks will last throughout the long weekend.  Our family is excited to be home and it reminds our children that, despite the fact that they love Australia, they are American.  Even this morning our son woke up and exclaimed, "I love you, America!"
As I lay in bed in the early morning I began to reflect on what I love about America.  The first word that popped into my head was freedom.  While it's a value that many of us would agree we hold dear, freedom means many things to different people.  I thought it's time I got clear on what it means to me and I'd love to learn what it means to you. 
Here's my definition of freedom for today:
Freedom is being self-directed free from the need to ask for permission to play with ideas, create change or experiment with innovation.
How often does the need for permission pop up in your life and leadership?
Personal requests for permission sound like:
I love this outfit but do I look fat in these pants?
I know that this necklace is really funky, is it too much for me to pull off?
I really want to go out with my friends.  Would you mind if I meet up with them on Sunday for brunch?
I'm starving!  Do you think I can step away for 15 minutes to grab lunch or will everything fall apart while I'm gone?
Professional requests for permission sound like:
Do you think I should bring up my idea at the next team meeting or is it too "out there?"
Can I go to the SVP directly because I know that they've been involved in this issue already or should I go through you?
I have all of my PTO days left for this year, would it be OK if I take off the Friday after the 4th of July?
I'm not wearing a suit today, can I still attend the last-minute client meeting since I'm lead on the project?
Ask yourself:
As a leader, how are you creating a culture of permission vs. one of creative energy?
As a parent, how are you giving your children the confidence to make decisions?
As a friend, how are you opinions transforming into "me too" choices?
As a partner, how are you balancing living your individual life and your shared life too?
As a project manager, how are you running the show? – by letting others run with the work or having to go through you to move forward?
As an adult child, how are you still looking to your parents to validate your career decisions?
As a coach, how often are you asking if it's OK if you interrupt, ask a provocative question, or share an observation?
As a human being, how are you taking a stand for what's right, willing to create ripples in service of creating a stronger tomorrow?
Freedom means many things and I encourage you to define it for yourself.  For you, is it about permission, ideas, creativity, innovation, or something else?