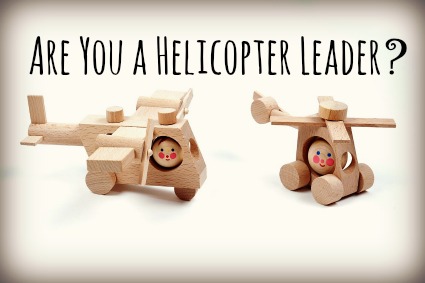 Do you feel like a super-awesome leader because every time someone on your team brings you a problem, heck, before they bring you the problem, you solve it. Unfortunately, resolving every issue and removing every roadblock may be doing more damage than you think. You may be a Helicopter Leader.
What? Helicopter Leader? That's not even a real thing. Besides, isn't that what a leader is supposed to do? 
Yes! Solving problems and clearing the path forward is absolutely what you should be doing. The question is, are you doing too much and creating a culture of permission and disempowerment?
Not what you were going for, right?
We've all heard of Helicopter Parents, what about Helicopter Leaders?
It's possible that all of your doing and fixing and hovering is creating a team that lacks resilience, know-how and the confidence to face difficult situations head-on without your intervention. Yikes.
Ultimately, leaders can do less and create a team that feels more responsible, accountable and empowered to make things happen. Leaders usurp all of the leadership when they fix instead of coach, guide and mentor. It's up to you to create the next generation of leaders, not only lead today.
Give up the pressure of being a Helicopter Leader. Your team is smart and capable. It's time to do less and create more empowered leadership in others. Sounds good to me. What do you think?
Tough Love Enables Leadership to Thrive
Recently my daughter had a swimming carnival at school and every single student had to participate in the competition. Someone signed her up for backstroke and she wanted to do breaststroke instead.
She asked for my help because she hates backstroke. Like a lot.
My advice was for her to speak to her Tutor Group teacher (for those of you in the USA, that's like a homeroom teacher) and find out how she could make the switch. Once she figured out who to talk to, she could find them and let them know.
She wanted me to fix it, not offer suggestions. I refused.
Yes, one phone call and I'd bet it would have been resolved in her favor. Still, I didn't pick up the phone.
If you think that makes me a bad parent, you might as well stop reading now. I didn't cave despite her whining or her remarkably high-stress levels when just thinking about competing in backstroke. (She's perfectly good at backstroke by the way).
If I take care of everything, when will she learn how or, more importantly, that she can too?
I wanted her to be happy and to have a great experience at the swim carnival, I'm her Mom. She accused me of not caring; she's wrong. I did (and do) care a ton. It took more energy to stop myself from jumping in to make everything perfect for her than to just fix it. I stepped back because, she is capable and even more important than I know it, she needed to know it.
In the end, she swam in the backstroke competition. No, she didn't make waves about a switch to breaststroke, but now knows that if something needed to change, it was up to her.
She has no idea how she placed in her heat, it didn't matter. It was a great day at the pool competing and cheering on her classmates. She also learned a critical lesson that things she doesn't want to do, and doubts her skills in, can be wonderful too.
You:
When you want something to change, you don't have to ask someone else to fix it. Speak up and make it happen. If you run into trouble after doing your best to take action, it's the perfect time to ask for help – because you've done all you can.
Helicopter Leaders and Parents:
Show your team (and children) that they have the power to act; they are empowered. Encourage them, guide them, make suggestions… but hold back from always doing for them. Let them discover that they too have the ability to influence and change their circumstances.
You won't be here forever, help them learn to lead.
Through your actions, and being a leader (and parent) who does less without caring less, help your team discover:
You are not powerless.
You are resourceful.
You are not impotent.
You are compelling.
You are simply stepping into the unknown… and I believe in you.
Have courage.
Faith.
Hope.
When you help yourself, others are there for you too.
Over to you, are you a helicopter leader?