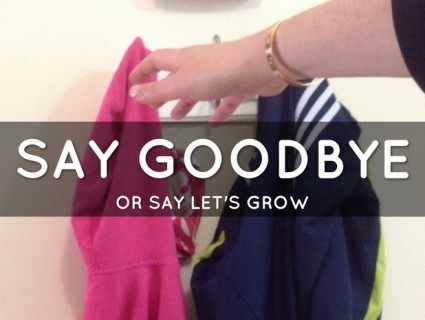 I had always been a go-getter at work; taking on large project loads, in the creative mix, and engaged with my work… that was, until I hit a wall nearly 10 years into my tenure with my company.  The wall happened to be my boss, and he wasn't going anywhere.  Essentially, the problem was that I was steadily promoted early in my career, coupled with a move from a merit based part of the business to a position based line of business.  As opposed to consulting, in HR, I was stuck at level until a position above me opened up which seemed like it would happen, well, never.
My boss's boss called me up on the phone one day and told me, "Alli, you're doing a great job.  We're so glad you're on the team.  As soon as Dan gets hit by a bus, the position is yours."  Motivating?  I think not.  Did I really want someone to die so my career could move forward?
Luckily, my boss's boss was (and still is) a smart guy and he decided to do a few things to make sure I didn't walk out the door while waiting for the bus.
He empowerd me to design, lead and run special projects that had visibility at the most senior levels
He nominated me for cross-division leadership opportunities that enabled me to expand my reach while staying in role
He encouraged me to take seeds of ideas and make them grow but he didn't dictate the final outcome
Yes, I took on a lot of extra work but I also got to do the thing I love the most: doing creative, interesting, challenging, never before tackled work with smart people.
Instead of giving me an "atta' girl, keep on doing what your doing" he continued to do the one thing that would retain me; made sure I continued growing.
As individuals, we often feel stuck in our roles and stuck in our positions.
We long for promotion as if that will make life so much better than where we are currently.  Let's be honest, every position has its challenges and strengths, it's often about what we choose to focus on that makes all of the difference.  Our managers, bosses and most senior leaders will not be committed to our growth, development and continued promotion until we take responsibility for making things happen too.  It's hard to "make things happen and lead from where you are" when you feel totally and utterly stuck.  Step one to get unstuck?  Shift your perspective.
Try this exercise to shift your perspective:
Each of the columns below offers you a perspective.  Think about your current role or business and pick the word on each line that best fits your current perspective.  Now, describe what that's like.  Then, choose the opposite perspective and describe what that's like.  Finally, list three things you could (will!) do from the more powerful perspective.
Example:
In my position I felt stuck because my boss was never going to leave.  When I am stuck I feel claustrophobic and like there is no way out, no options available to me.
In the opposite perspective, growing, I would feel like there was some exciting and fun work ahead.  When I think about growing, I think about new challenges and really feel excited by new possibilities.
If I'm growing I will:
Make some recommendations for some special projects I'd like to lead
Ask for feedback on a regular basis
Mentor others so when I'm promoted, they'll be ready to take on my current position.
You choose:

Make the Leap Action for Leaders: Do more than tell your high potentials that they're in line for big things, ask them how they want to grow and intentionally find opportunities for them to expand their skills and influence so when that senior position opens up, they are well equipped  for success in their future position.
Make the Leap Action for Individuals: Don't settle for stuck and dissatisfied – shift your perspective and speak up!  Make the choice to lead from where you are and create a great place to work for yourself and others.
Bottom line:  Make sure high potential employees are valued and engaged today and not just in line for tomorrow. (Click to Tweet)
How has a shift in perspective help you move from stuck to purposeful action?
Are you ready to make the leap?  For speaking, coaching or consulting, Let's Connect!