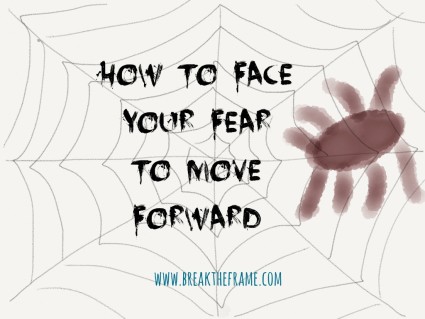 My husband said "don't look out your window!" but it was too late – I already saw something move out of the corner of my eye.  My head immediately snapped to the window and I was looking face to face with an enormous huntsman spider.  If you're wondering how big it was, think softball, not golf ball size. I screamed and a part of me likes to think the spider screamed too; I swear my scream scared him as he scurried around.  After much hyperventilating, squeaking and squealing on my part, not to mention driving at full speed down the road to shake him loose, he eventually disappeared from the window.  I bravely told my kids to get out of the car, the spider was gone.
Over reaction?  I didn't think so!  That sucker was HUGE and scary.  He could have eaten my family for dinner…  ok, maybe not.  Turns out that the huntsman spider is harmless to humans. Can they bite?  Yup.  Can they kill me?  Nope.
Big and scary can unnecessarily stop you in your tracks. Don't let it! (Click to Tweet)
How can you overcome paralysis when staring down your personal big scary spider, uh, I mean, moment?
For you, it might be a job interview, getting called into the bosses office, asking someone for a first date or getting a big performance review.  No matter what your spider-moment is, there is a way to tap into your most confident, competent and creative self instead of letting the moment runt the show.
Events don't determine your experience, you do. (Click to Tweet)
Don't stand frozen in fear, do this instead: 
Freak Out
It's OK to be scared!  However, running to the rooftops and sobbing uncontrollably is probably a mistake.  Instead, simply allow yourself to feel the fear.  Go to the bathroom, take a walk, or call your best friend on the phone.  Talk about your emotion and how you're feeling – even the most irrational bits.
Alli's freak out:  The spider is going to sneak in my house tonight and I'm going to wake up with it on my face!  AAAAHHHH.  Crazy, right?  Freak out over.
Stop Screaming, Breathe
You're not a loser if you feel the emotion of fear – you're human.  Instead of covering it up, breathe, look at what it's telling you.  Listen to your words and recognize when the irrational is covering a rational response.  Deep breathing also helps you slow down, lower your blood pressure, and get present.
Alli's deep breath: I'm inside of the car, it's on the outside.  It was an I'm OK, you're OK moment.
Get Centered
Those deep breaths help you to welcome a state of mindfulness: Present, in the moment and able to accept and acknowledge your feelings without letting them overwhelm you.  When you embrace the yin and yang of the moment you can move with greater ease and purpose.  Centered.
"Yes ands" are available to each of us in the moment and we can cultivate our ability to "hold both."
Fear and curiosity
Love and hate
Excitement and calm
Focus and a wider view of the world
Alli's centered moment: I live here, they live here – neither one of us is moving out of the country.
Call Forth Courage
Centered, breathing, it's time to envision your ideal outcome.  What does it feel like?  What are you doing?  Here's the thing, having a vision for how you want things to go helps you keep your eye on the best possible outcome and not all the seemingly endless numbers of things that could go wrong. Courage starts with your faith, not in facts.  Now is the time to act, you can do this!
You are bigger than your fear when you choose to take action despite your fear.  (Click to Tweet)
Alli's moment of courage:  I opened the door instead of giving into my desire to sleep in the car for the rest of the night.  Opening my door and stepping out with courage gave my children the confidence to do the same.
Your acts of courage inspire confidence in others. (Click to Tweet)
If you're wondering, the next day the huntsman was back but this time on the driver's side.  It still freaked me out but I screamed a little less and even pulled out my phone to take a picture.   I watched it climb behind the side view mirror and pictured it having a party with five of its friends.  Still, I got out of the car with more calm than the day before.  The following day I didn't see the spider and mustered up courage and confidence when I encouraged my kids to get in to head to school.
Every day I still expect to see its ugly body make another creepy crawly appearance but I'm still moving forward, carrying on with my day, and heading where I need to go.  Do I love the huntsman spider?  NO.  Am I worried about it making an appearance?  NO.  I've got too many other things going on to worry about might-bes and could-happens.  What about you?
How have you opened yourself to your fear to get over your fear?
For coaching, consulting or speaking Let's Connect!