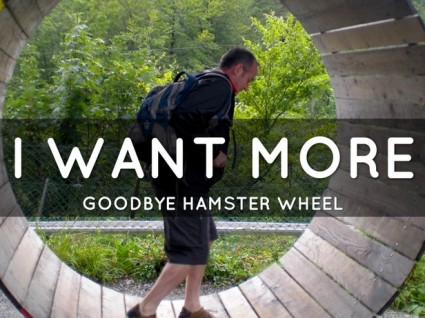 Ever wake up one morning and think to yourself:  "There has to be more than THIS."
Do you know what it's like to be working so hard yet caught in a cycle that feels a lot like running on a hamster wheel?  I do.
Mine may be an aqua "Coach and Consultant wheel" and yours may be a pink, or blue or green, corporate, student, Mom, or entrepreneur wheel but make no mistake, it's still a wheel.  It looks so normal, right?  I see you, you see me and yet we're both running in circles afraid to get off.
It's time to get off of the wheel!
Five Do's to Break the Frame & Find Your "More"
(First, start by worrying less about all "the don'ts" and other rules you've made up for yourself and get ready to embrace positive action!)
Do What You're Afraid to Do
EXAMPLE: Reach out to the CEO that your friend of a friend knows to set up a 15-minute call.
When we give our fear control, it becomes a big, huge, scary monster that is shouting all of the worst possible outcomes at us 24/7.  Harness the energy the fear gives you and lose the rest.  Hate to say it, but who cares if you fall on your face?  Try laughing instead of crying, dusting off, and trying again.
Do What You Most Want to Do
EXAMPLE: Write the darn book and stop talking about it.
I'm guessing you have a million excuses: time, money, time, responsibilities, time, work pressures, time…  I think you see where I'm going.  Life is too short to only think about big things you want to do or accomplish.  Doesn't matter if it's writing a book, running a marathon or bungee jumping, DO IT.  Your life will be richer and nobody will have to listen to you talk about it longingly for the next 20 years.
Do What You Least Want to Do Too
EXAMPLE:  Go to your 10th meeting of the day and get engaged.
Unfortunately, living a life with more meaning and more fulfillment, doesn't mean that you get to outsource all of the crappy stuff.  Here's what I've discovered, even my least favorite things are more fun when I do them with gusto.
Do What Will Make you Grow
EXAMPLE: Take a Coursera MOOC and actually do the reading, lectures and assignments.
When you're learning, you're thinking and growing your worldview of what's possible.  Books, blogs, conferences, MOOCs, networking events, tweetchats all keep you expanding.  When you know it all, you're done.  You might as well stay on the wheel because there is nowhere else for you to go.
Do What Makes Your Heart Sing
EXAMPLE: Have a big Wii Dance party and don't worry about looking silly.
It might not be your day job, or your night job for that matter, but find time to do the things you love.  Were you in a band in college and gave it up when you hit the "real world"?  Hit karaoke night.  Do you love to build things?  Download Minecraft and get building.  Be creative, be joyful, immerse yourself and ENJOY yourself.
Here's the scoop: I want more.   And I'm tired from running on the hamster wheel; it's killing time and it's killing me just waiting. NOW is the time for Doing.
I want to jump out of bed with purpose beyond getting my kids off to school.
I want to be creative and connect with others in big ways.
I want to collaborate with other people who share my passion for leadership, employee engagement and creating a great place to work.
I want to ask: "Can we really do this?" and have the answer be "Let's find out!"
I want to create a virtual team of people who want to DO and not just TALK.
Is that YOU?
If so, call, tweet, email or post here.  Let's talk.  Let's get going.  Let's CREATE.  Let's Break the Frame… or better yet, start by breaking the hamster wheel.