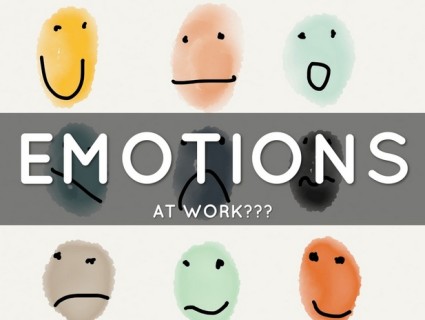 I know many leaders that believe that you should maintain a healthy distance from your team.  You know, not get too involved on that icky, uncomfortable "personal level."  Those same leaders believe that someone who is very expressive at work or "over shares" does not have what it takes to lead.  Period.  End of discussion.  Every emotion is like a black mark on their employee's permanent record.
What's the Prob Here?
We are HUMAN.  We get excited, we hurt, and we have personal challenges that have nothing to do with what's happening at the office.  We need to create room for whole people in our organizations not half-humans that turn off who they are from 9 – 5, or more realistically for some, 8:00 – 7:00 every day or later.
Emotions Indicate Aliveness
People that show us who they are and their aliveness through big ideas, big gestures and big passion are KEEPERS.   It's up to us to get over our discomfort around anything that doesn't fit in the narrow band between "interesting" and a polite  "I like it but…"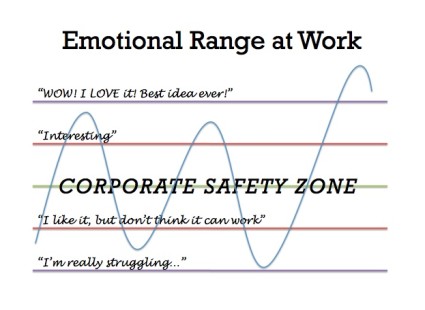 Enthusiasm, and Disappointment are Not Dirty Words
People that visit extremes are often looked at like they have two heads and six arms.  Why do we revile enthusiasm and disappointment?  Because we feel them in our core.  Coming face-to-face with emotion can make us feel less masterful because it's outside of our safety zone.  We need to connect with our own humanity to accept another's. (Click to Tweet)
Process, Don't Bypass Emotion
The hardest thing to do with emotion is to be with it.  Take solace, sometimes there is nothing to do or say; no action required.  The only thing you need to do to step up as a leader is be present and let the emotion also be present before closing it in a box and moving on.  Negative emotions like frustration, sadness and disappointment deserve as much space to process as elation.  You don't need to know what to do.  Start with "I'm here for you if you want to talk.  Take the time you need.  How can I help?"
Emotion Doesn't Always Mean Touchy Feely
If you're not comfortable with hugs and kisses and gushy moments at work, that's OK.  You don't need to change who you are but you can consciously accept that we are all different.  Don't want to join in the group hug and sing kumbaya?  I don't blame you.  It's not my thing either.  Just bow out with respect instead of disgust.  It's a fine line that's easy to cross and makes a world of difference.
Try it, You May Like It
What if you could say what you mean and mean what you say with a tinge of emotion and not total deadpan coolness?  What if you could say, "that sucks!" when the deal falls apart? (not to the potential client, of course!)  What if you could say, "I'm really bummed out this project is over.  I'm going to miss working with all of you day-to-day."  What if you could dance down the hall when you finally get the code to work or successfully facilitate a key meeting?  It's not a prob if you don't, or you can't, but still feel the feeling!
You are still a leader if you feel something.  I promise, the most cool, calm and collected leaders you've ever met still has feelings. They may not bring them out for show in front of the large group, but with trusted advisors, team members, friends and family they allow their excitement, their disappointment, and their humanity to shine through.
How do you feel about emotions at work?  How do you create space for people to bring their whole selves to work?