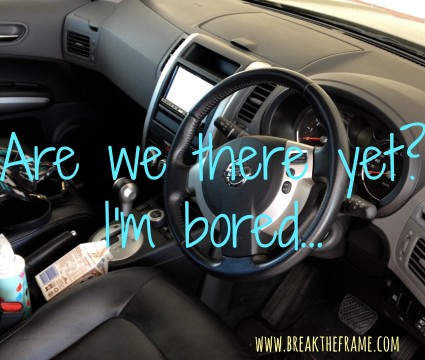 Whenever we get in the car, my children have about a 20-minute limit before they start to ask the dreaded "Are we there yet?" question.  It's dreaded because clearly, we're not there, or even close, and we talked about how long it would take before we even got in the car!  Still, I am responsible as a parent, just like you are as a leader, to hold back from shouting that I'm tired of the dumb questions!  I'll tell them when we get there, they're just along for the ride, and need to suck it up.  Whoa.  Are my kids really just along for the ride?  Is your team?  I hope not.  
There are four leadership principles that ensure that your team is more than "just along for the ride" but instead part of the drive and integral to the final destination:
Vision
Engagement
Expectations
Communication
Vision:
"It's so nice to know where you're going, in the early stages.  It almost rids you of the wish to go there." ~ Samuel Beckett
You can't know if you've arrived if you don't know where you're going. (Click to Tweet)
Ask Yourself:
Does your team really know where you're headed and more importantly, why?
Is your team inspired, excited and enthusiastic about where you're going together?
Have you opened the door to the car and asked them to join you for the ride?
Lessons from the Road:
My kids ask the question because the they don't always fully understand WHY we're going, they just know that they have to sit in the car instead of playing.  If I paint a vibrant picture of where we're headed, and what makes it worth the drive, they're much more likely to jump in the car and be willing to stay there longer.  They will want to be present when we reach the destination.
Engagement:
"That roads are for journeys, ma'am, not destinations" ~ Margaret Landon
The ride goes faster and is more fun when everyone is engaged. (Click to Tweet)
Ask Yourself:
Am I the only one with a clear view of the road ahead, making all the decisions, while my team is in the back falling asleep?
How can I call forth my team's creativity and engagement? 
If I'm always in the front, super busy and focused, but spend limited time talking to my team, how do I know that they're still in the car?
Lessons from the Road:
When my kids have nothing to do on a long drive, they get bored.  I can involve them by continuing to talk about the vision, ask them to help see important signs that mark our progress, and encourage them to engage with each other.  The kids don't always need me to dictate what they should be doing.  I need to let go and empower them to determine how they spend their time while we're on our shared journey. 
Expectations:
"My expectations are sky low, because I'm standing on a mountaintop." ~ Jarod Kintz
Expectations left unspoken are expectations left unmet. (Click to Tweet)
Ask Yourself:
Are you transparent in your motivations when you make decisions?
Do you make time to give feedback and talk about what you expect?
What about the flip side ~ what do the people on your team expect of you, their job, and the organization?
Lessons from the Road:
Restlessness sets in when my vision is the only one that we can see.  I can tell my kids till I'm blue in the face what we're going to do when we arrive at our destination, but it is still my vision.  They have ideas and expectations too and I can't know what they are unless I ask.  Frequently, they have a lot to share that ultimately influences how and where we spend our time.
Communication:
"Much unhappiness has come into the world because of bewilderment and things left unsaid."  ~ Fyodor Dostoyevsky
When people don't have information, they make up their own stories and get distressed by their self-made truth.  (Click to Tweet)
Ask Yourself:
Do you create opportunities for two-way communication?
How can increasing your communication also increase commitment from your team to the long drive ahead?
Are you open to clarifying your message or do you get defensive and feel challenged by every question?
Lessons from the Road:
Instead of waiting for my kids to ask how much longer the ride will take, I not only proactively tell them how much is left, but also how far we've come.  Effective communication also requires patience to ensure the message is understood.  For my kids, that means when I say, "two more hours," and am asked how many minutes, I need to put my message in a different context to make it meaningful.
In the future, my kids will still occasionally get bored on long drives and you'll lose a few people from your team along the way too.  Still, if we want our people to stay not only for the ride, but also once we reach our destination, we need to tell them, engage them, appreciate them and love them along the way. 
How do you keep your team engaged?  What do you do to create a culture that makes people want to be a part the ride?