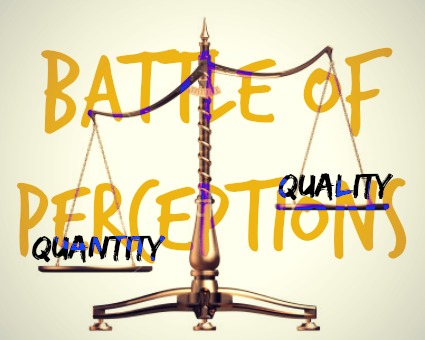 Imagine that a really awesome houseguest comes for a visit.  They hang out with you and your family, help clear the table after dinner and sleep down the hall.  They love it at your house so much, they stay up late, day after day, choosing time with you instead of sleep or going home to be with their own family.  They're really happy in your house and you like them too, for a houseguest.
One week, your houseguest says that they have an idea, they've decided to bake a dessert that no one has ever seen before.  They plan for days, gather all of the ingredients and go to great lengths to get special items that are not on hand at the local grocer.  Eventually, they go in the kitchen and get cooking.
You begin to wonder what they're doing in there and what's taking so long.  Joe makes dessert in five minutes, Christina, an hour.  Days of baking seems unnecessary, doesn't it?  You begin to wonder, did you really want dessert anyway? Have they ever made this before?  Shouldn't it be easier and faster?  You are ready to forget dessert altogether and then they emerge.
The cake is beautiful.
Despite that it's clear your houseguest had never made a cake quite like this one before everyone loves it.  Even your extended family thinks it's the most delicious cake they've eaten in a really, really long time.  They also can't stop gushing about how wonderful you are to let your houseguest make such a treat.  You're happy to accept all of the compliments.  After all, it is pretty great cake.
Still, you're frustrated that it took triple the time and effort that you imagined.  You invited your houseguest to stay at your house because you thought that they'd swim in the pool, play Wii and babysit once in a while… not put in days and days to simply bake one cake.
Yeah, it tastes good but isn't it time for you go home, Houseguest?
Are You a Leader Engaged in a Battle of Perceptions?
Some leaders treat their employees like the most unwelcome houseguest around.  Instead of making employees feel like an important part of the team, no matter how long they stay, they are forever a visitor who could be asked to leave at any time.  Yes, we all understand at-will employment, however, it's tremendously difficult as an employee when you're constantly worried about getting the boot.
In cultures where great work is overshadowed by assumptions about the complexity and time required, even stellar results can have less-than-welcoming receptions from leadership.  The gap between front-line challenges and the perspective of senior leadership widens when connection, support and engagement is replaced with pesudo-stabs at motivation, limited contact, and a lack of true understanding of the work effort.  Talk about a battle of perceptions, just like with our homeowners and houseguests, leaders begin to ask themselves questions and make up the answers.  Why did it take so long?  Why did they do it that way?  Were they lucky or do they really know what they're doing?  Why can Joe do more in half the time?  At the same time, employees are looking back at you wondering why you're not happy and more supportive.
Unfortunately, in many organizations, big-effort and big-impact contributions are minimized when the person down the hall is cranking out modifications to five projects and this employee-cum-houseguest is focusing on a single effort.  Pressure to prove immediate value is tough to manage when innovation is in the mix and is unlikely to yield immediate short-term results.  To create a world-class organization, leaders need to give their people the time and space to create meaningful solutions instead of only rewarding band-aids and patches.
When employees are faced with a "what have you done for me lately" every time they turn to take a breath, it's hard to keep up the positive energy to bake the next "cake."  I believe that people want to give their all and have personal success as a part of creating organizational success.  How can leaders and employees create a win-win instead of a win-lose culture?
5 Ways of Being to Eliminate the Battle of Perceptions and Create Shared Success:
Be Transparent:  Admit it, with your family you say what's on your mind and not always elegantly.  Leaders that want to see specific improvements in performance need to be open and honest about it.  It's confusing when you hear good job over and over only to find that you're not meeting expectations at annual review time. Be a leader who helps people be in the know instead of constantly on edge and in the dark.
Be Inclusive:  Nobody likes to be treated like they're a temp.  With a temp mentality, you're only passing through with no intention of making your mark.  Invite contractors, consultants and full-time employees to all-hands and off-sites.  Make sure that people know that they're welcome and you want them there.
Be Welcoming:  In our house, we have a guest room that's ready to go in case someone wants to stay with us.  We put out towels, bottled water, and make sure they have what they need to be comfortable.  At work, leaders can do the same by making sure people have the log-ons and technology they need to do their job to the best of their ability.  Asking someone to scrape by most certainly does not make them feel welcome or accelerate success.
Be Accepting:  We don't always like our houseguests at every moment, but we usually love them (we did invite them to stay!).  Leaders, your people are going to try new things and mess up.  Accept best effort and not only best results.  Accept that they're stretching themselves and stretching the team to be better.  It's your job to facilitate learning not simply judge people for trying and failing.  Love your employees enough to let them have success, failure and grow along the way.
Be Forthright: My Mom tells me what she thinks even when I don't want her to.  I've learned that sometimes I just need to hear what she says and my attitude isn't going to stop her from telling me.  Leaders: Tell people what they need to hear!  Don't mask your message because you don't want to be the bad guy.  Be the good guy who speaks the truth.
Clearly, this is not a complete solution to the problem of clashing assumptions and priorities but it's a good place to start because it focuses on the relationship between the leader and the employee.  Leadership happens through relationships and the way to end the battle of perceptions once and for all is dialogue, not monologue.  Employee engagement will skyrocket when you trust, ask questions, listen and don't assume that you know the full story.  Maybe someone will even bake you a cake to say thanks for creating such a great place to work.
What tips do you have for leaders that struggle with employee engagement?  How can they create a culture where people are welcome, want to stay and not simply passing through?
For coaching, consulting or speaking Let's Connect!