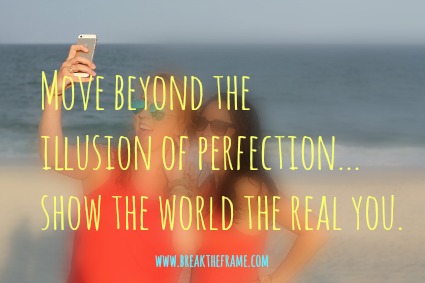 I tried not to stare, but I was intrigued. I was on the beach in Fiji, mesmerized by the sparkling clear blue water, and on either side of me there were young women taking endless selfies. Self absorbed to the max, determined to get just the right photo to post as evidence of their absolute perfection. Kind of reminded me of what I often see in the corporate world where there is an intense fear of taking leadership beyond the illusion of perfection. As if telling the whole truth could potentially get you fired or eliminate any possibility of success. 
Here's the scene on the beach:
To my left, three friends were snapping pictures of each other in impossible positions to carefully highlight their, um, best assets.  It was more like a Sports Illustrated swimsuit photo shoot than hangout time with friends at the beach. In fact, as soon as the last pic was shot, they packed up and left the beach for the day.  Guess they only wanted the pictures, not the experience of actually being present in Fiji.
To my right a young woman spent over an hour with her selfie arm with focused determination to get the perfect shot. 
I could picture the steady stream on Instagram with playful comments like: Look at me!  Super hot!  Yet, all I could see was how much work each photo took and that they were all carefully contrived. 
Walk with me to another scene… no beach, this time it's a leadership team creating a glamour shot out of not so beautiful data.
Before accepting a position as VP in a new division, I reviewed all of the charts and highlights from the previous leadership team. Their story was a great one highlighting significant successes in the early stages of a radical innovation program. Every presentation, PowerPoint chart and conference call emphasized the  elegance and beauty of the new model. I wanted in ~ this was not only amazing, but the wave of the future. 
You know that saying about something that looks too good to be true?  It probably is. In this case, they cherry picked the data to tell the most compelling story possible and to keep funding flowing. Unfortunately, the rest of the data was far less pretty. 
Truthfully, if I had seen the whole picture, I would still have said yes to the offer but also with adjusted expectations and plans. 
My challenge was to have the courage to change the picture, move away from the glamour shot and show the beauty in the truth. It was in there, just a little harder to spot.
4 Tips to Take Your Leadership Beyond the Illusion of Perfection
1) Remember, just because a shot isn't a glam shot, it doesn't mean that reality can't still be pretty.
The girls on the beach were super cute and didn't need to sex it up to take a good picture. 
In my organization, the full dataset revealed some early successes, yes, but also places to dig in, shift and change. 
In both cases the glam shot was misleading and more about telling a one sided story than sharing reality.
TIP: Show the whole you and the full story. Polished perfection is unattainable. Be real and people will follow.
2) Stop being so superficial – it's not attractive.
Everyone likes a photo where they look good (and a pie chart that shows amazing results).  Still, when you work that hard to manipulate the data you have to wonder, what are you really hiding?
TIP: Eventually, people will look beyond skin deep. Have the courage to step forward, flaws and all, to cultivate respect and trust based on truth. Don't wait for someone else to pull back the curtain, be a leader. 
3) Fear you'll be judged if it's less than gorgeous?
Nobody is perfect. Nobody. Only showing perfection is hiding from reality, not an alternative version of the truth.  If others judge you or your success, it's up to you to cultivate the self-confidence and self-belief – not crumble because you're being judged.
TIP:
Honestly, every day someone is judging what you're doing, why and how you look while you're doing it. Who cares? Be your best and do your best embracing your flaws and your struggles along the way. 
4) If you only see the glamour shots, as a leader, you get the wrong impression. 
Think about how you react when your team brings you challenges in addition to successes.  Have you created a culture of "tell me the good stuff?" It's impossible to help make things go right when everyone is showing you that they're already perfect. 
TIP:
Encourage your team to share the big picture and not just the most flattering one they can muster. Be supportive and not punitive. 
Embrace your flaws, your challenges and your not so flattering photos.  They will reveal something far more interesting and real than photoshopped, manipulated, insta-glam perfection ever will. 
Messy is human.  Polished perfection is just who someone wants you to see. Be You. 
What's your advice?
For coaching, consulting or speaking Let's Connect!
Are you ready to find clarity and take courageous action?  You don't have to worry about being perfect anymore.  This eCourse is for you: Get Unstuck and Choose to Move