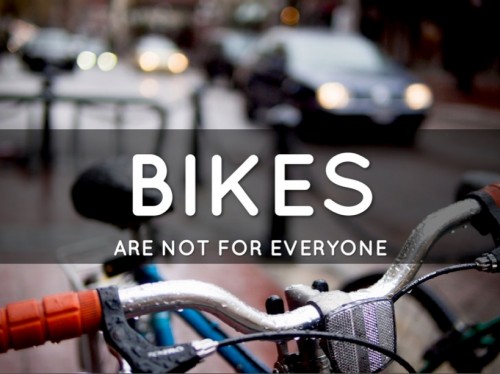 They say you never forget how to ride a bike.  Thirty years ago I fell off of my bike, broke my arm, and never got back on – ever.  I walked away from the idea that riding a bike is something I should want to do.  In fact, while I've spent a little time teaching my children to ride, I never made it a priority and neither child can ride without training wheels yet.  My family is now joining me in a life without bikes.
I've seen many notices for bike riding clubs, people tweeting, posting on facebook and blogs about the amazing bike rides that they go on and the things that they see.   People love bike riding and it would seem that nearly everyone I know enjoys a ride once in a while.  I've never been jealous or upset that I can't (or won't) join in.  Clearly, I've chosen another path.  Am I missing out?
Here's a view into my world without bikes:
I observe my world too, only at a slower pace
I may not take long rides through winding trails but I can still be present with nature.
For me, going to the beach and staring silently at the ocean makes me feel small and connected to our big world at the same time.  Walking through a canopy of trees is an opportunity for me to expand my energy and by the end of the path I have the feeling that anything is possible.  Even walking to the neighbor's house is an opportunity for personal centering and playfulness.  As I see each crack in the sidewalk it brings me back to my childhood.  I'm careful even today: "Step on a crack and break my mother's back."
In my world without two wheels I'm moving at a slower speed and can observe and appreciate my surroundings at a different level. 
Leadership is also about what noticing what others do not see.  Forming ideas that lead to innovation isn't possible in a blur of action; it comes from tiny details that expand into flowering trees of possibility. 
Community exists everywhere
I may not go for long rides with friends and strangers but I've still found community with people I enjoy and appreciate.  Coaches, Foodies, Moms, Leadership obsessed people all are "my people".
What's most important isn't that you do what all the cool kids appear to be doing. (Sometimes you just have to say "No") An essential part of personal leadership is knowing what you value and creating a life where you are honoring what's most important to you.  Find what lights you up and you'll create your own home, your own community and support network.
The bottom line?  We all need community and connection.  Be a leader in your own life and you'll find that bigger things are possible when you aren't alone.  Brainstorming, celebration, and hard work are all more satisfying when we are with people that share our passions and priorities.
So what if I have to drive, I still get there 
Friends tell me that they went on a 30 mile ride to a great part of the city and then spent the day there enjoying the great weather.  Turns out, I was there too, only I drove.  Funny – we both ended up at the same place.
You can get to the same place through many paths – there is not one right way to get to the destination.  Leaders that set the vision and empower their teams to achieve that vision aren't tied up with process but instead focused on outcomes.
The key is to never let the different tools at your disposal stop you from going where you want to go.
Moving forward
Thirty years after my "big fall" I now go to the gym and hop on the elliptical to get in my exercise.  At my new gym, I'm starting to recognize faces and get more waves and smiles when I enter.  Looks like I have yet another community to enjoy.
Will I ever get back on a bike?  Probably not.  Do I appreciate and admire people that love riding?  Sure do!  I also think when we're together they appreciate that we're not the same.  We all bring diversity and different perspectives to the table.
Personal leadership is about being you, not hiding your authentic self.  Be brave and show the world who you are.   I don't live a life of regret because I never got back on a bike.  It was a part of my path!  The feeling of missing out holds us back.  Leaders know that it's important to look back, learn, but always move forward.
Here I am!  The woman that doesn't ride a bike!  It doesn't mean I can't, since you never forget, it's about choice.  If my children want to be bike riders, I say go for it!  They may just not want Mom to be the one to teach them to ride.  I'll certainly be on the side of the road cheering for them along the way.
What is your bike story?  What have you learned by making a choice different from the majority?