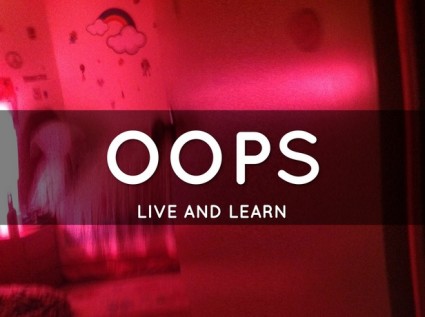 Stress can get the best of us even when we think that we've got it all under control.  In fact, that's probably when our stress is at the highest, when we want to give the illusion of perfection and control in all that we do. For a long time, there was nothing that stressed me out more than other people thinking I don't have my sh*t together. From the littlest thing to the biggest blunders, internally, I was treating them all the same.  A year ago, I promised myself I'd learn to let it go and every day I'm getting a little better at that promise I've made to myself, even if I still have a long way to go.
There is really no need to hide our mistakes as if they will transform into a big "A" pinned to our shirts!  Instead we need to own, accept and learn from them.
Maybe you won't feel so bad about your own mess-ups if you have some insight into a few of mine.  Here are three blunders of differing magnitudes that I'm ready to share and own because none of them matter as much as holy heck, in the moment, I thought that it did. Also, maybe it will inspire you to make a similar promise to yourself.
Did She Really #1
I can remember writing my very first blog post and putting together the message to my list to tell them about the blog.  I was nervous and excited.  How would it be received?  Does it add value?  Is it fluff?  A friend of mine on my list quickly replied to me and what did I find?  No "congratulations!"  No "excited to see you blogging!"  I got: "You have a typo." Yikes.  I suck.  Truly.  Awful.
OK.  Freeze frame.  Logically, I know I don't suck just because I had a typo but I also know that's exactly how it felt in the moment.  I wanted to put forth the perfect post and the perfect message and instead I messed up.
LET IT GO:  It's a typo, not an acceptance speech at the Academy Awards being simulcast around the world.
LESSON: Nobody's perfect even if it seems that way from the outside.  Moreover, it's important that we embrace our less than perfect selves to show others that they can do the same – and live to tell the story.
ACTION:  Laugh.  Breathe.  Move on. 

Did She Really #2
It was my wedding day and my makeup was perfect, hair sprayed to survive a wind tunnel, dress was on and I was ready to go!  The music started, the doors opened and as I began to walk down the aisle with my father, I began laughing – uncontrollably.  People thought I was sobbing crying and I was crying from the extreme laughter.
LET IT GO:  It was my wedding.  Not like I was laughing at another bride walking down the aisle.
LESSON: Emotions show up in funny ways.  Don't run from emotions, learn to be present with them.
ACTION: Look back and smile instead of wishing it was different.  The moment is over, it's not changing, embrace it.

Did She Really #3
Every summer my family and I would drive from Philadelphia to Cape Cod Massachusetts for our annual family vacation.  We were at one of our favorite family restaurants and I asked the waiter for a glass of water.  He had me repeat myself literally three times.  Two minutes later he showed up with some butter for me.  Once I stopped being confused, I realized my Philadelphia accent must have been kicked into high gear for him to confuse water with butter.  I thanked him, repeated my request sans accent, and my thirst was quenched shortly.
LET IT GO: My accent was and is a part of who I am.  I don't speak wrong while he is right – we're just different.
LESSON: A moment of embarrassment should not turn into a derailment.
ACTION:   If it mattered enough to ask in the first place, it matters enough to keep going for what you want.  Ask again.  Try again.
What About You?
Did you ever mess up or feel like you did?  Be honest.  Of course you have!  The real question is: Have you been beating yourself up about it silently and wishing that you could turn back the clock to make it perfect?  Stop it.  Let it go.  It doesn't mean you don't care.  It does mean that you accept yourself for being human.  Who wants to be perfect anyway? Not me.  Adventure is so much more fun when you're willing to get a little messy.
Break the Frame Action:
Raise your right hand and say "I'm going to do better with letting go and enjoying the moment."  You may mess up, you may beat yourself up, but hopefully, you'll also remember this oath to let go and grow.
What's your biggest mess up?  Do you replay it on a constant loop in your mind or can you share your insight to help others let go?
For coaching, consulting or speaking Let's Connect!