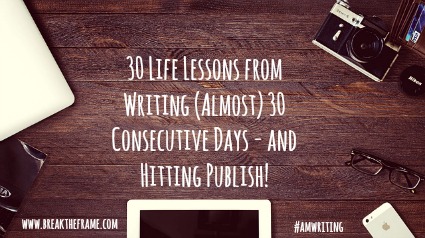 Last month, I dared myself to do something I thought was impossible, to write for 30 days in a row. In the past, I've participated in NaNoWriMo, so I knew that 30 days of writing wasn't actually the challenge – it was hitting publish on my blog and other blogging platforms like Medium. Pushing my limits and putting aside my inner perfectionist, I started. After all, starting is often the hardest part.
Week One: Writing – 7 days, Publishing – 5 days
Week Two: Writing – 7 days, Publishing – 5 days
Week Three: Writing – 5 days, Publishing – 4 days
Week Four: Writing – 4 days, Publishing – 4 days
Week Five: (only two days to hit 30!) Writing – 1, Publishing – 1
If you made it through 2nd grade, it's clear that I was successful for 24 days of my 30 day writing dare. Six days short.
I have all kinds of good excuses, like I went on vacation. However, who cares, ya know?
The great news is that I published 19 times in 30 days. Didn't hit my writing goal but still have a lot to celebrate because I took on a dare, not a new job.
There isn't a rulebook for the anatomy of a dare. There is no requirement that you do it one particular way. The heart of a dare is the stretch outside of your comfort zone into new, unexplored territory.
Google Dictionary tells us:
DARE
noun
a challenge, especially to prove courage.
Done.
Through my dare, I learned a number of life lessons from writing. Whether you're a blogger or aspiring novelist, I hope that many of these will resonate with you too.
30 Life Lessons from Writing (Almost) 30 Consecutive Days – and Hitting Publish!
You don't know that you can't do something (or can) until you try to do it.
The milestones you reach along the way to your goal matter and are worthy of celebration.
You learn as much about yourself from what you do accomplish as from what you choose not to do. Make the time to reflect either way.
Things get easier the more you do them.
Not every piece will be perfect or your favorite but if there's a nugget in there worth sharing – share it.
Goals are not something you do to prove something to other people. Do it for you.
Small changes ripple to create bigger changes. (I'm going to be writing more).
It's okay to fall short and not give up. Change your timeline, don't throw in the towel.
Hold yourself accountable to your commitment but don't beat yourself up when you mess up, get back on it tomorrow.
Routines are not the enemy to trying new things. The key is to bring the newness into your routine until it becomes a habit.
When you're the most stretched by a challenge is also when you get the most creative.
Without an element of playfulness, any challenge or job is just work. You (and I) deserve more.
Write because you have something to say but don't wait for inspiration to strike. Sit down and start writing.
Outlines help but going off plan can be just the exciting jolt you need.
People won't notice everything you do, but that doesn't make it matter less.
Make yourself proud of your effort and output. It's not worth putting out schlock.
Once you've reached your goal, you can stop or keep the momentum going. Up to you.
Engage, engage, engage. It's one thing to say I write for myself and another to engage with your readers. Writing is for reading – it's not all about you.
Doing something is better than doing nothing.
Falling short of a goal is not the end of the world. When all you can see is the gap, and not how far you've come, that's the problem.
Let yourself shine through in all that you do. I've never had more people hone in on a single word in my writing than sucktastic. I say it; it's me.
Make your dare a priority. Block the time to write (or do what it is you want to do – exercise etc.). Don't assume that the time will magically appear in your day.
If you want to get unstuck, do something different – not only a small, easy tweak to your current plan. Push yourself.
Share your goals! When you tell people what you're doing, they can cheer you on, support you and be your fan as you cross your finish line.
Set a goal that stretches you but will not break you. If your goal strikes too much fear in your heart, you'll stop before you start. (I'm glad I went for 30 days and didn't start with 365)
Make a choice and stop wishing. Don't be one of those people who says, "I always wanted to…" Do it.
When was the last time you felt the stretch? The discomfort zone is huge and new territory. Ready to explore?
I dare you.
If you're feeling stuck and in a rut, it's likely time for a change. Check out my five-week eCourse: Get Unstuck and Choose to Move for inspiration and hands-on activities to discover your next step.