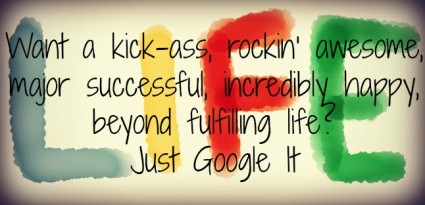 Google, long ago, ceased to just be a company name and is now a verb.  Want to know something?  Just google it.  It's all there, at our fingertips 24/7.  It's amazing, almost anything you want to know not only has one or two articles written about it but approximately one zillion (give or take a few).  Not only can you learn to grill a steak to perfection, get your newborn to sleep through the night and find the date for literally anything but also you can find the secret to living a fulfilling life.
There is a Wikipedia page on the meaning of life.
Wikihow offers us 25 steps to make friends (Really?  25?)
Tiny Buddha offers us tips on how to find ourselves when we're most lost
Forbes brings us the fastest way to make a million dollars – just ask for it
Oprah chimes in with how to find a hobby you love (and of course, need right now)
The problem is, that if you turn to Google to figure out how to live a fulfilling life, you're going to be stuck reading for approximately the next million years instead of doing what it is that you say that you want to do – living.
At one point, I was caught up in the fact that I did not have a hobby.  You're supposed to have a hobby, something outside of work that you love more than work and keeps you fresh, energized and alive, right?.  Everyone I knew had an obsession with something, but was it a hobby?  Did it matter?
The Quest for a Hobby
I tried latch hook.  I had a five-year plan for my first creation because it was so boring it would take me five years to spend enough time with it to get it done.  Finally, I got smart and just tossed the box and my dreams of being a latch hooker extraordinaire.  Who would have thought Alli and hooker would be in the same sentence!?  Clearly, not meant to be.
I tried scrapbooking.  It seemed social and would be preserving memories of important family moments.  I have friends that love it and I'm good at it!  Problem is, I hate it.  My favorite part about scrapbooking is the moment the book is complete. That hobby attempt was more of an obsession to get it done than enjoying the process.
I tried running.  Ok, nature and I and then oh, ow, shin splints.  Done.
I started to get frustrated.  Who needs a hobby to have a fulfilling life? I do cool work, blog, plan amazing travel adventures, read tons of books, play with my family… Wait a sec.  Rewind.  Travel, books, adventure, play.  Sneaking in there as a part of living I was actually doing what I love.  Finding energy and happiness without labels.  Imagine that.  
Do I have a hobby?  I'm going with no.  I have a full life that sparks my imagination, creativity, sense of play and brings me alive.  Part of having a full life is enjoying it, immersed in the moment.  I've had work moments that were like magic too – so fun I was afraid that someone would notice and ask me to stop!
Work, hobbies, meaning, happiness… all come from living, not googling.
The next time you hop on Google to google something, do something with the information.  Propel your life forward with gusto.
Break the Frame ACTION:
Stop worrying that if you don't have what others have somehow you, and your life, are less than ideal.  Who knows best what's ideal for you?  [Drum Roll Please…] YOU.
What about you?  What's the craziest thing you've ever googled?  What did you discover?
For coaching, consulting or speaking Let's Connect!