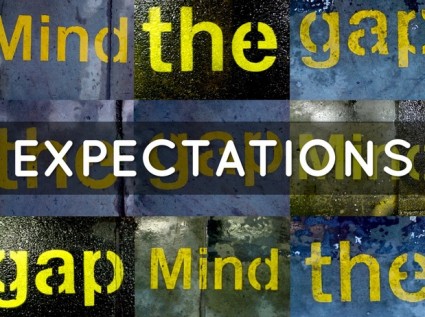 When I was in college, I studied for the summer in London.  It was a fabulous summer filled with great books, tons of theatre, travel and adventures with friends.  Our flat was right down the street from the Tube, which made getting around incredibly easy.  Every day I'd hear the voice and see a million signs reminding me to "Mind the Gap."  I would always be sure to take a quick big step from the platform into the waiting car and on the way back out too.  I didn't want to be the one to fall into the gap and get hurt.
The lesson from the Tube applies in our lives too.  Each one of us creates mental pictures of what "should be" and color it in with our hopes, dreams, fears, desires and experiences.  When we get ready to jump into the reality of what is, there is often that pesky gap that we need to cross; the expectations gap.   Too bad we don't have signs everywhere cautioning us and heightening our awareness of our personal gaps.
What does the expectations gap look like?
With our children:
"I can remember fractions were so easy to learn, why is it taking Katie so long to figure this out?"
"I applied to four colleges and got into them.  Why on earth would Brad need to apply to so many schools?  It's expensive!"
With our spouse / significant other:
"When he handed me the box I just knew it was a ring!  I started crying as soon as I saw that it was just a gold bracelet."
"I know we both work but can't she get off of the couch to make dinner once in a while instead of suggesting we order in?"
At play:
"That movie was nothing like the book at all!  I love the book and the movie was a total let down.  Wasn't like I pictured it."
"Vacation was OK.  I was hoping we'd get a suite like the one we saw on the website.  My heart was really set on it so I was let down when we opened the door to the room"
At work:
"I asked Larry to take what we discussed and turn it into a presentation that we could give to the Board.  I wasn't expecting this."
"I was so excited during the interview process that this company had all the things I loved about working at my old job.  It's still good, but now reality has hit and it's not all roses and unicorns, I'm thinking about keeping my resume active."
In each scenario, you can hear the let down and can feel the disparity between the mental picture and reality.  Truth is, not everything is better than you had imagined and certainly not everything is worse either… it's different.  How can you get comfortable with what's different, readjust mental models, and cross the gap?  There is no magic formula but here are a few places to start looking ~ the answers are inside of you.
Questions to Ponder:
What strengths are present in today's reality?
Is it possible that (name here) is doing their best?
What is my judgment cutting me off from?
Am I absolutely sure I'm not rewriting history?
What would be possible if I let go of the thought that I'm right?
What perspective can I choose right now that will narrow the expectations gap?
How is the gap highlighting not only the way I see the world, but also the way I see myself?
Yes, sometimes our experiences are better than our expectations but more often than not, it's the disappointments we remember most.  Challenge yourself to embrace the dichotomy of mindfulness and possibility as you leap from "what could be" to "what is."
How do you navigate the expectations gap in your work and life?  How do you leap from disappointment to positive appreciation and stronger relationships?