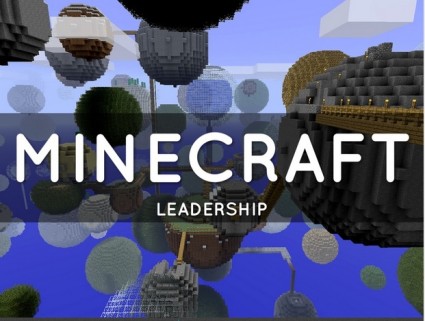 If you're unaware of the current obsession with Minecraft that is sweeping the world you are either living under a rock or don't have a family member under the age of 20.  It's a big virtual sandbox where players create worlds, only limited by their imagination, out of Lego-like 3-D cubes.  I went to the Minecraft site to see if I could see any stats and I was shocked!  In the past 24 hours 12,178 people bought the game and 9,320,370 people have bought the game since it was made available in May 2009. 
My children would play Minecraft forever if I'd let them (which I will not).  Watching their obsession has led me to consider the value of the game beyond spatial awareness as I try to convince myself that their brains will not going to turn to mush.   It struck me one evening, while my son gave me a tour of his virtual world, Minecraft has a lot to teach us about leadership.
According to Wikipedia:
Minecraft is an open world game that has no specific goals for the player to accomplish, allowing players a large amount of freedom in choosing how to play the game.
Minecraft and Leadership Require:
Vision
Leaders need to know where they are heading to find the path to achieve their goals.  Having a clear vision guides all decisions.  In Minecraft, players do not build in isolation but instead create communities that interconnect with great detail and complexity.
Understand and Communicate WHY
My children not only can tell me what they're building but why they're building it.  They understand the landscape and hidden challenges and marry them with their goals.  They aren't just building cool structures, they are telling a story.   Every leader needs to be able to clearly and succinctly communicate their why for decisions and actions too.
Creativity
Without creativity, the status quo wins out over innovation every time.  Creativity not only finds new solutions to old problems but also a willingness to see what's possible.  In Minecraft, players aren't limited by reality but instead can craft creations that stretch the limits of the imagination.
Focus
Minecraft creations can be built quick and dirty or with a ton of detail and layers.  Leaders know that focus, time and effort is what leads to success, not band-aid solutions.
Try & Fail & Try & Succeed
Leaders are willing to put their necks out there and try something new.   Learning comes not only from the attempt, but also from the failing.  Minecraft players build crazy creations that sometimes wobble, lean and collapse.  Instead of meeting the failure with an oh-well, it's met with an ah-ha as they try again.
Even the two modes of play will be familiar to most leaders:  Survival and Creative. 
Survival
When leaders work in survival mode they can truly feel like they are under attack.  Leaders with a survival mentality are constantly reacting to what's happening without really moving forward.  Reactive mode causes leaders to either try to control the situation or rely on self-protection.  It's impossible for the team and organization to flourish in survival mode.
Creative
In creative mode, leaders not only take responsibility for the vision, but also engage, inspire and connect with true authenticity and self-awareness.  Leaders that embrace creativity are willing to take risks and support the team on the road to innovation.
I'm not a Minecraft player but I appreciate that my children can look at an empty landscape without being paralyzed by possibility and indecision.  Like leaders, they know what it means to have a vision, take action, and create something new and complex.  These are skills  that every leader needs to develop and grow for long-term success.
Are you a fan of Minecraft or do you have family members that are as obsessed with it as mine?  What leadership lessons do you see from the world of Minecraft?