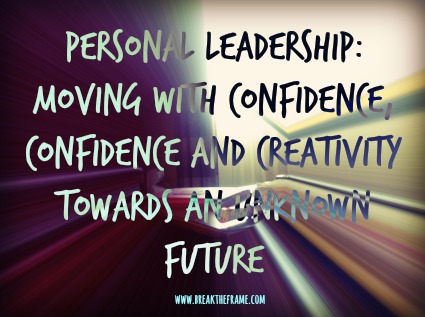 I get asked all the time how long my family and I will be living in Australia.  Most people are surprised when I answer with what I know today; a contract end date.  Is it possible we'll stay longer or come home at the end of the current contract?  Yes on both counts.  Both are possibilities that come with their own set of challenges and opportunities.  Clearly, the hardest part about not knowing exactly what's next is navigating an uncertain future.  However, I know I'm not alone with that challenge.
We've all been there…
Searching for a new house (Will I ever find the perfect one?)
Interviewing for a new job (I really want the job, but am unsure how the interview went)
Rumors of layoffs (What if I'm out of work?)
Lots of proposals out the door, but no movement (Something has to break soon, right?)
Starting a small business (It's an awesome idea!  Will it ever be profitable?)
At best, when we're navigating towards an uncertain future, it feels unsettling and likely stressful and at worst it can be down-right all consuming.  Instead of obsessing over what could be, focus in on what's in your control today.
Three C's to Navigate an Uncertain Future
Confidence
Most people would agree that trust is a foundation of a successful relationship and confidence relies on you trusting yourself.  Sounds easy, but I know that you may be skeptical.  I've heard a ton of arguments in my coaching practice about why people's confidence is often traded for defeat.
You may think that you'd have more confidence if only you had more wins or successes.
You may feel more confident when others praise you.
You are confident when you trust you've got what it takes to figure things out.
Success doesn't bring confidence along for the ride, confidence is a choice.  Trust you'll figure it out.  Trust you can survive the storm.  Trust that no matter the outcome, if you fail, you're not a failure.  Trust, and be confident that there are things in your power today to get you where you want to be tomorrow. Essential to confidence is taking action, instead of biting your nails with a wait and see attitude.
Competence
I've said it before and I'll probably say it a billion times in the future: leaders are learners.  Competence grows through stretching, trying and learning.  You can read book after book about leadership, management, small business success or how to be the perfect parent, but you need to realize that they're giving you ideas and tactics to put into play.  You've got to do something with the information to build your competence.  Twist it, turn it, customize it to fit you and your life.
When you're navigating an uncertain future, competence is something to cultivate and rely on through the fire.  Build a Start-Stop-Continue to leverage your competence as you look towards an uncertain future.
Start to fully explore and understand your strengths to call them forth when you need them most.
Stop worrying that you don't know what to do or how to do it.  How is the easy part of the equation, you can learn.
Continue to build on your strengths and engage with your network.
Competence is within your control yet reality is that you will not be perfectly perfect at everything you need and want to do.  Think in terms of "collective competence" when you're struggling and turn to your team to compliment your gifts with their own.
Creativity
Uncertain times require us to pull out our creative selves and let go our our reactive tendencies.  Frankly, "the way we've always done it" is going to keep you spinning instead of staying focused with purpose.
What would happen if you met each moment of doubt or uncertainty with creativity?  
You'll move from someone who is a victim of circumstance to a creator of your circumstances.
Stress moves to the front seat and your personal leadership takes a backseat when you believe that you don't know what to do.  You know what's awesome about creativity?  You can't do it wrong.  Creativity is original thinking, playful, joyful and often inspirational.  An uncertain future may be throwing you for a loop but you've got what it takes to make the leap – with flair.
Confidence, competence and creativity may not land you the house you put an offer on or stop a planned layoff, but it will move you forward with inspired action starting from where you are today.  Every step forward, no matter how awkward, is still a step; make it with intention.  Why wait?
For coaching, consulting or speaking Let's Connect!