The most important asset to any organization is its talent – its people. Leaders who are committed to the growth, development, and success of its people ultimately have a competitive advantage in the market that is realized through higher employee retention, lower recruiting costs, and retention of critical knowledge capital.
Are you facing any of these problems in your organization?
We have limited strategic vision and are always focused on what's right in front of us.
Our leadership is made up of people with strong individual contributor skills – that's why they got promoted. Unfortunately, leadership skills are not their strong suit.
It's amazing how one person can drag the team morale down and not even know that they are doing it.
Bull in a china shop is what comes to mind when I look at our leadership team. Things are getting done but they don't seem to care if the team goes down along the way.
A few key people are always hoarding information.
Nobody gives our top leadership answers these days. Half of us are too afraid of the potential implications and the other half are too apathetic to be honest.
Creating a culture that is genuine and fresh starts with the leadership team and flows through the entire organization. Your leaders are the visionaries and change catalysts that will motivate and inspire others to give more, do more, and believe more in the company mission. Leadership team development – in addition to the personal leadership development of all employees – will ultimately create a more collaborative, innovative, committed workforce.
The Three C's of Leadership: confidence, competence and creativity, reflect the leadership growth cycle. Break the Frame aligns solutions around each stage.
The Three C's of Leadership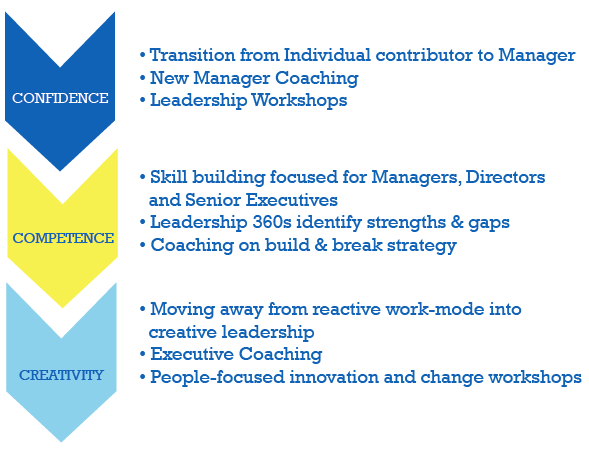 Services for Organizations
Team building & Workshops & Facilitation: Training works when it is interactive, facilitated, and focused on the specific needs of the team and organization. All of the Break the Frame training programs get your leadership teams and front line staff focused and bursting with energy.
Executive Coaching: Executive coaching is a great investment in current executives, rising leaders and high potentials. It's focused, honest, and customized one-on-one leadership coaching with an experienced executive and certified coach – and it's designed to create results.
Speaking: Groups big and small benefit from learning from new skills, fresh perspectives, and ideas. Alli is a genuine, connected speaker that will energize your organization with what's possible.
Let's connect to discuss your needs and goals.  Here's my calendar.