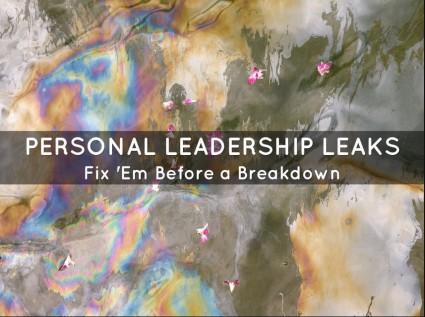 The other day I ran out over lunch to take care of some errands and noticed that the car parked next to me was leaving a sizable puddle of oil.  I briefly wondered if the owner knew how much it was leaking, if they planned to head to a mechanic soon, or just wait for a breakdown.  I was curious enough that when I got home I googled what kinds of things could be leaking from a car and discovered it's a lot more than just oil but also break fluid, windshield wiper fluid, anti-freeze etc.  The article was great at breaking down how to know what your car is leaking and what to do about it.
Then it hit me…
You and I are clearly not cars but we too can develop leaks that we don't always notice until they're extreme.  In this two-part series, I'll cover six leaks that you should check for on a regular basis – don't wait for a breakdown. 
ANGER LEAKS
I know that you think that you're doing a great job at remaining calm, cool and collected despite boiling inside.  Truth is, your anger is leaking out.
Top three signs?
The first thing people tend to say to you is "I'm so sorry to bother you…" or "I know you're really busy and if this wasn't really important…"
You see someone noticeably shrink or flinch when you're speaking.
You consistently raise your voice to make your request, ummm, clearer.
What to do about it?
You may think that letting out some steam through bitching, moaning, blaming and yelling is working for you; it's not.  Take a break to let go of stress and rediscover your inner peace.  A break could be as quick and easy as going out to get a coffee, taking a walk, hitting the gym or having a date night.  You may also need a bigger break to learn to breathe easy again – like a trip to Aruba.  Figure out what you need and do it.  You don't want everyone in your life to tiptoe around you afraid they may set you off.
TIME LEAKS
Logically, you know that everyone has the same 24 hours in a day but somehow it feels like yours is passing at a rate that is significantly faster than everyone else's.
Top three signs?
Your to-do list is forever growing and never getting any smaller.
People count on you so you try to say "yes" to requests whenever possible.
Double and triple booked time on your calendar is no longer an exception but now the rule.
What to do about it?
Here are three D's to pull out and plug those time leaks:  1) Delegate 2) Defer 3) Deny
1) What would happen if you didn't do everything yourself?  (Hint: It would get done)  Delegate to others not only to get things off of your plate but also give them a chance to expand their skills into new areas and grow personally and professionally.
2) Stop pressuring yourself to get it all – done – now.  Not everything is equally important or falls into the "matters most" category.  There are things that can simply be deferred and you (or someone else) will get to them later.  Along the way you may discover things never needed to be on the list in the first place.
3) Your drive to be helpful, needed and in the mix is fueled every time you say YES. Today's the day to start saying NO more and deny a request or two. (Which, in truth, is really still saying YES to things, like your sanity, that are more important)
PATIENCE LEAKS
You want to be patient, really you do.  Still, why is it, the more you force patience, it leaks out in frustration?  At first, it's like a drip yet patience leaks quickly become an annoying thorn in everyone's side.
Top three signs?
You consider crossing your arms and rolling your eyes a great way to send non-verbal cues to get people to shut up.
When people are two minutes late, you make it crystal clear that behavior is always unacceptable
You are constantly texting quick questions because you need to know NOW.
What to do about it?
First thing you need to do?  Acknowledge the feelings that impatience gives you: stress, anger, frustration, short-tempered, superior etc.  When you know what a patience leak feels like, you can catch it and repair it more quickly the next time around.
Now, breathe, in and out, count to three or 103 if you need it.  You can stop counting when you feel calmer (but keep on breathing).  From this calmer and wiser place, tap into yourself for some self-mentoring.
Ask:
Do I really need this NOW?
How do I feel when others treat me with no respect?
What do I want my legacy to be?
Will my tapping foot make things go right or make things worse?
In the next post in the series, we'll take a look at three more leaks that plague many of us: empowerment, idea and relationship leaks.
Where do you struggle the most living your leadership?  What leaks do you need to fix to live and lead at your best?
For coaching, consulting or speaking Let's Connect!