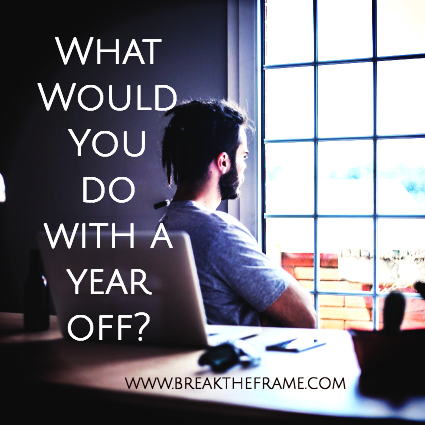 Many years ago, I worked for a large consulting firm, and business was struggling. Rather than laying off large numbers of people, they decided to offer a FlexLeave sabbatical. It was time off to follow a dream with the ability to step back into their work life and their consulting position six to twelve months later.
If you could take a year off, would you? I'm not talking about sleeping in and lazing around all day but focusing on your life and creating the one that you want to live; Investing in your dreams, your health, and your happiness.
Since I've moved to the Outback, I've lived my life a lot like I still live in DC Metro. I get up, get the kids to school and work on my business. I could still be in DC given that I spend most of my days inside of my home office. When I finally get up and go outside, and see a kangaroo hopping down the street, I'm reminded that this world outside my door isn't my forever view.
I love helping people expand their personal leadership and live their best life, and I also want to be a role model. Yes, five years ago I left DC Metro for a life unknown, but now it's time to break the frame yet again.
For the next twelve months, while I take a sabbatical:
I'm going to work on my novel and the book I've started on personal leadership.
Exercise.
Get outside more.
Travel more.
Go, get a coffee, and read a book without guilt.
Hang with my kids until they tell me to leave.
Give my time freely.
Re-discover my spirituality.
Read.
See friends.
Blog.
Experiment.
Tweet.
Cook.
Did I mention read?
For the next twelve months I will not:
Travel for work.
Take on a coaching or consulting clients just to pay the bills.
Stress about my website needing an overhaul.
Plan my next product launch.
Worry about what path I'm following. I'm tired of following an expected path.
Maybe thinking about a sabbatical as a year off is wrong and it's actually a year of turning things on. Lighting up, rediscovering my spark, allowing things to unfold, finding a new pace and rhythm.
In the race to get ahead, have more, be more and do more, I got lost. Recently, I watched a video of me making a speech. I was smiling, passionate and honest but I was also overweight and on my way out the door minutes later to my next engagement with limited time to linger, connect and enjoy once I was away from the podium.
When I had surgery in 2015, I didn't let it change my life, but it did derail me. Now, two years later, I wonder if it should have changed my life instead of rushing back into the fray.
We all have a limited time on this planet, and I don't know about you, but I'm tired of doing what I'm supposed to do. Tired of sharing parts of me while keeping other parts hidden away. Tired of always walking a tightrope instead of not worrying about my next step. 
Most of all I'm taking a break from the idea that I need to be more successful. I'm not a failure if my practice isn't full or I don't have a waiting list or a gazillion followers or blog readers. I know that but sometimes, like you, forget.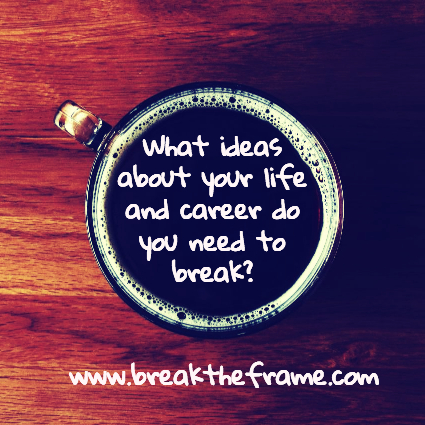 BREAK THE FRAME ACTION:
What about you? What ideas about your life and career do you need to break?
Maybe you can't take a sabbatical to figure it out. Here are five questions to ask yourself to get started. Grab a journal or Evernote or whatever works for you. Ready?
1. What are you putting off that you say matters a lot?
2. Where do you need to give more time?
3. What dream do you secretly hold dear that needs to see the light of day?
4. How are you holding yourself back?
5. What story do you tell yourself? Is it true?
You don't need to quit your job or make some mammoth leap to make an important change. Life, leadership, work… It's rarely all or nothing. However, you have to make choices, or you'll find yourself floating along instead of moving where you want to go.
I'm still here on Break the Frame and hope you'll visit me and engage with me. I plan to continue sharing my ahas, experiences, and stories with you and hope I make an impact on your personal leadership journey.
Can I promise I'll be back in the same business in twelve months post sabbatical? Nope. But if I use the time with intention I can assure you I'll bring a world of new experiences to whatever comes next.
Here's to leaping into the unknown with the confidence you can and will get to where you're meant to go.