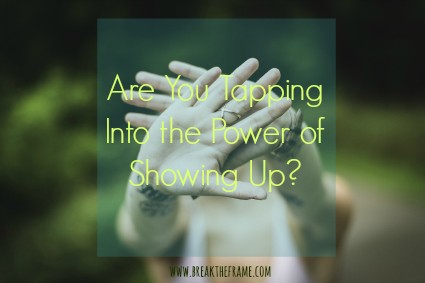 I wanted my return to blogging to be spectacular… and to acknowledge my absence. As a result, I've worked on a bunch of posts and most of them are well, lofty, or just crappy.
Over the past two months, I've had surgery, complications and flew halfway around the world to recover. More than eight weeks of blogging silence has left me with a lot of time to reflect and many lessons and observations to share. I've been so focused on getting my arms around those lessons in a meaningful way, I've missed a key component; showing up.
Today, a Friday, is not my regularly scheduled blogging day, but here  I am. Waiting until Tuesday to get things just right would be another excuse and I'm done with those.
There is a strong internal push for most of us to show up as our best. I know that I feel it and will bet that you do too. Nobody wants to be labeled as average, but it happens.
"That restaurant was okay." … "I probably won't go back soon."
"The book had an ending that I predicted." … "Little boring."
"The PowerPoint you put together looks good." … "Just send it to me. I'll work on it."
Here's the thing that both you and I logically know but so often ignore: Not everything you do will be knock it out of the park awesome. The perfectionist in you may disagree, or argue that average is not an option. What if instead of defining less than your big vision as average, it's a stepping stone to amazing?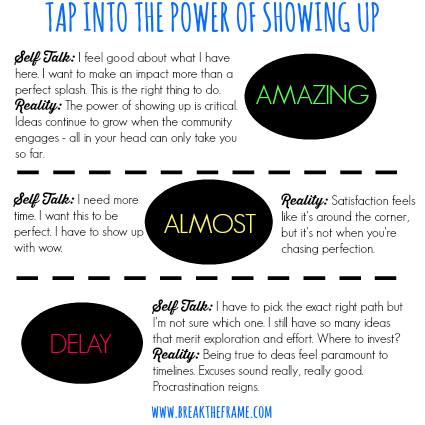 When I was a kid, we had a creek in our backyard and we called our tiny portion of the trickling stream Polin Creek. The river bank on the opposite side from our home was much too far to cross in one large step, but there were rocks sticking out of the water like an invitation to discovery. Some of the rocks were dry and easy to stand on with two feet and others were slippery and you could only stop there for a second before hopping to the next. Ultimately, all of us made it to the other side and had a whole new forest to explore and it was amazing.
What happens when the fear of average gets in your way of showing up at all? 
Not every stepping stone is a slippery rock. Start from a foundation of showing up before you miss out…
… on connection
… on opportunities
… on meaningful action
… on new ideas that build on the old
Change and growth require you to start somewhere and grow from there. It's one thing to make a huge leap and another to accept that each leap is a stepping stone that will take you closer and closer to your destination.
I'm still recovering but have bought into my self talk of "I need more time" and "I have so many places to start" for too long. If I want to get stronger, and I do, I plan to do that in relationship with you, my readers.
See you next week. I'll be showing up. You?