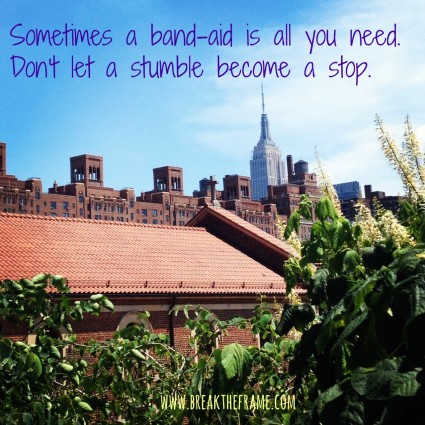 I had an amazing weekend in NYC with my husband.  We went to a Broadway show, had great meals and spent a lot of time walking them off all around the city.   I was feeling really good on Sunday morning as we walked near Central Park to get a cup of coffee; the concierge recommended the café and said it was his favorite.  As we crossed Fifth Avenue by the park…  I tripped.
Flying.
Flat on my face.
Cell phone launched.
Watch lying on the ground.
Husband staring at me in shock and disbelief.
I scurried to my feet and barked to my husband to pick up my things so we could quickly keep moving.  I felt like just for a moment every taxi, tourist and New Yorker stopped and stared.  As we began to walk, I heard the noises of the city begin once again around me and noticed the throbbing pain in my knee and the palms of my hands.
The only thing that hurt worse than my bloody knee?  My ego.
My husband ignored my brusque attitude, took my hand, carried my things, and made sure I was doing OK.  We ordered some coffee and a bite to eat and I checked out my wounds.  Good news, I'll live.  My knee has a big scrape that I'll hardly notice in a few weeks.  My ego's doing just fine too… right where it belongs – close to earth.
When we fall, stumble, get called out in a meeting or pulled over by a police officer, it can feel like the world stops and a million eyes are on us noticing our imperfection.   It's as if our self-confidence disappears and we are replaced by a very tiny version of ourselves.  In that moment, when we're feeling smallest, it's really because we are feeling vulnerable.  Our armor is off and everyone can see that we can (and do) indeed fall.
Remember:
People who ruminate over their mistakes are much less successful than those that recognize their mistakes, learn and move on.
You need to forgive yourself to move forward.
Perfect isn't reality, or a goal you can reach.
Blame doesn't help make you bigger or better.
Only the weak decline help; we are stronger together.
Band-aids can take many forms: a willing ear, a smile from someone that's been there, an invitation to grab a coffee or an offer to share the load.
Thing is, we're all human and humans bleed, get cuts, scratches and fall.  The trick is to get back up, grab a band-aid and keep going.  I was lucky, I could take my husband's arm to make my walk easier.  Ask yourself, whose arm is reaching out to you?  Are you prepared to take their hand as it extends to you?
When was the last time your ego survived some bangs and bumps?  What did you learn from the experience?