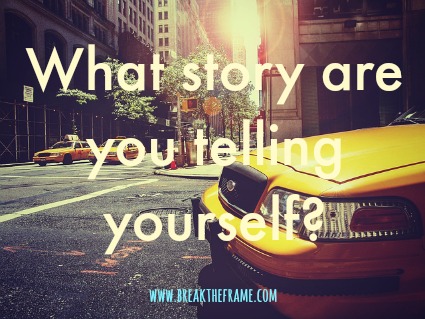 The weather report said it would eventually warm up to 31 degrees but this morning was frigid. All I could think about was staying warm. The Australian summer was only a memory as I hailed a cab with my children in NYC last week. For a moment, I wished I had gloves and earmuffs or had just stayed under the covers. Then again, on a cold winter morning, who hasn't had second thoughts about starting the day.
Luckily, my kids and I had a warm hotel room with a soft bed, thick winter coats and a great breakfast with hot drinks at Ellen's Stardust Diner. That afternoon we were also headed to a Broadway matinee; life was good. We decided to do some shopping before our show – shopping in NYC is nothing like shopping in the biggest town in the Australian Outback.
As soon as we left the restaurant, the arctic air hit us and we walked in a tight pack to the corner. We waited for the light to change and tried to stay in a huddle to keep warm.
While waiting, I took a quick glance down the block and noticed a figure enclosed in a blanket with a small cardboard box for change in front of them. Their face was obscured by their thin cover and for a moment, I considered averting my eyes and pretending that I didn't see them. The light was about to turn green in a minute anyway. I had my kids to consider too, they were cold and needed to get inside without a long detour.
Clearly I should keep on marching.
Isn't that what most people do when they see someone who's homeless or begging on the street for money? Look away? I'm not saying that there is a right or wrong answer when it comes to giving money to people who live on the streets nor am I trying to open a debate. All I know is that I reached into my wallet, took the kid's hands and changed our course.
Humanity won.
Goodness triumphed.
Standing in front of the almost frozen human being in front of me, I said:
"Excuse me, I don't want this to blow away." 
He uncovered his face and took my ten dollar bill.
"Thank you. I've been out here all morning and now I have seventeen dollars. I need forty-eight dollars by one or they'll kick me out of the place where I'm going to sleep tonight. Can you spare anything more?"
Without overthinking, I went back into my wallet and took out my last bill, a twenty and some loose change. I told him:
"Now you have the forty-eight you need. Go get warm."
I took my children's hands and we walked away feeling good knowing that the thirty dollars we gave him would not make us suffer but would be meaningful to him.
A good deed. A mitzvah. One human helping another.
That's when my thinking brain took over – and not for the better. Second thoughts dominated my internal dialog and external chatter. 
My body was tense, my thoughts were angry and in half a block I went from joyful to stressed.
… I gave him a ten and he asked for more? Really?
… Chances are he's still sitting there giving the next person who stops the same story.
… He's probably going to buy drugs, alcohol or cigarettes.
… Now I need to find an ATM that will take my bank card. I'm sure I'll be charged fees too. What a pain.
OMG what happened?
Suddenly I mattered more than this person?
Suddenly I needed the thirty?
Suddenly I was better than, smarter than and all round more deserving?
Suddenly giving was a mistake?
I went from opening my heart, to opening my wallet to squeezing every ounce of the goodness out of the deed. All that was left was judgment and frustration that I was such a sucker.
An hour later, on our way to the theater, we walked down that same street; he wasn't there. Maybe he moved to another street but maybe he took his forty-eight dollars and was in from the cold for one more night.
I'll never know what happened to him but I do know what happened to me. In that moment, I chose to let go of the part of the story that had anything to do with me. When I handed him the money, it wasn't about me and it still isn't.
Tell me your story in the comments below. What would you have done if it were you?
Break the Frame Action:
I had a moment of choice when I saw the man under the blanket. I am sure that you face many similar choices every day. The more you notice these decision points, your initial instinct, and where you betray yourself, the greater your ability to make a change in the moment. If you want to learn to leave behind those second thoughts and second guessing, start here – with noticing.
For the next three nights with journal in hand, reflect back on the following:
When did you have a moment of choice? (maybe it was to hold a door open, or give up a parking spot, or clean up the messy break room at the office)
What was your gut, your first instinct?
Did you go with it or do you talk yourself out of it?
If you honored your sense/gut, what did it feel like?
Did you betray your sense/gut? What did you do/say/feel?
** What story are you telling yourself?