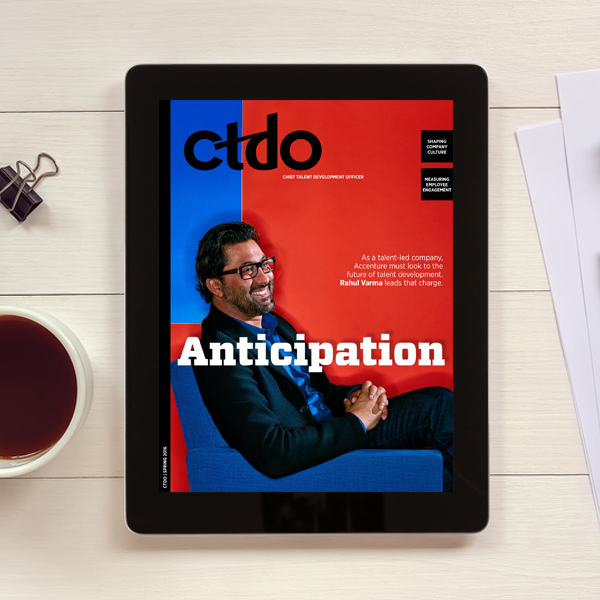 Today I'm hosting a guest post from Ann Parker of Chief Talent Development Officer Magazine (CTDO Magazine). It's a fantastic resource that I wanted to highlight for Talent Development practitioners. Great news is that it's free to read and subscribe!
I'm also fascinated by reading about Accenture – that's where I spent the first 11 years of my career.
______
Developing talent today with an eye on tomorrow—as a talent development (TD) executive, you understand the dual focus required of your role. While you engage employees now, you must simultaneously anticipate organizational change and build a sustainable learning culture for the future.
Rahul Varma, chief learning officer at Accenture, understands such anticipation. "We want to help our clients be high-performing and successful, which means we need to be looking forward to where the world is headed," he says in this issue's spotlight feature article.
Accenture also reinvented its performance management practices as many leading TD organizations have begun to do. The company is moving from the business of managing performance to achieving performance. Varma explains the philosophy behind this shift: "Our role as talent development officers is to engage the leaders of our organizations in embedding learning and development and its key innovations into the fabric of our business."
The engagement motif continues throughout this issue of CTDO. The Angst Index column takes a deeper look at how to measure and evaluate employee engagement in a meaningful way. And the Hot Topic article explores another driver of engagement: organizational culture. Author Julie Clow suggests the role of TD executives in defining and shaping organizational culture: "The CTDO can serve as the driver for initiatives and can help assess progress over time, linking together the many disparate efforts across the organization in a holistic way."
Perhaps the most compelling column of all, Confessions From the C-Suite, discloses lessons learned in the design and launch of a real-world leadership development program. With the utmost authenticity and candor, Karie Willyerd describes how she realized that hope is stronger than truth when it comes to motivating change.
I am confident these themes of anticipation, engagement, culture, and change will resonate with you as you read the Spring 2016 issue of CTDO. I'd love to hear your feedback. What article was your favorite? Which column is most beneficial in helping to inform your role as a TD executive? Please contact me at any time with your thoughts.
*****
Ann Parker is manager of the Human Capital Community of Practice and the Senior Leaders & Executives Community of Practice at ATD. Prior to this position, she worked at ATD for five years in an editorial capacity, primarily for TD magazine, and most recently as a senior writer and editor. In this role, Ann had the privilege to talk to many training and development practitioners, hear from a variety of prominent industry thought leaders, and develop a rich understanding of the profession's content. Visit Chief Talent Development Officer Magazine.