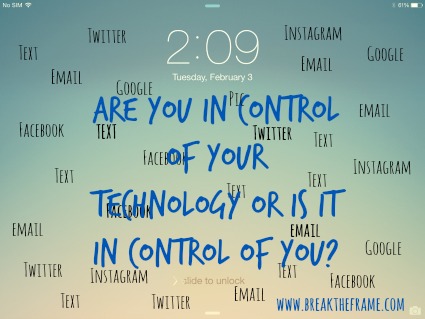 It was two hours before 2015 and my 11 year old daughter's friend taught her a nifty trick – she can text on her iPod.  My 9 year old son was thrilled to get into the action too.  I thought that they'd be out of primary school before I had to teach them good tech habits, but my daughter has put on her technology training wheels, long before I was ready, and is taking them out for a spin. 
My son swears that "lots of 3rd graders" in his class have Instagram… can he?
My daughter is sure that she's responsible and all of her friends are on Instagram…. so… can she?
No!  
I thought that by denying Instagram, setting strict rules about iPod usage and removing Safari I'd be able to stay in "control" (yeah right, I know) of their screen time.  Now my daughter's iPod is her constant companion.  Music and games have taken a backseat to the pings and bings of her non-stop incoming messages. 
I think what drives me the most nuts is when her friend calls her on the phone and asks if she can get her iPod so she can text her.  Hello???  The phone works wonders for communication – give it a try. 
This is a stressful learning process for my kids and for us too. We're talking about their answers and our answers dozens of times a day as texts arrive in record numbers.  We recognize that the technology training wheels have to come off at some point and then they're on their own.
What do you do when your phone bings with a text and you're eating dinner?  
Watching a movie?
Doing homework?
In the end, they'll grow up and get to choose every single time. No Mom or Dad to draw the line in the sand.  Our hope is that good habits now will serve them later too at the office, in their relationships and in life.
Everywhere we look it's clear that phone addictions are rampant among adults.  The question we're asking is how can we teach our children to be more responsible technology enabled citizens who can balance the real-world all around them with their engagement with a phone screen?  It starts with being a role model.  There's no room for do as I say, not as I do. 
By the way, it's not only parents showing kids how to engage on technology… it happens in every workplace across the world and has an enormous impact on the org culture.  Hello leaders… you're role models too. 
Ask yourself… what's your go-to response?
Are you expected to return a text or email within minutes?  Is your team?
Does your workplace rely on IM and text 24/7?  Are you shooting off quick questions at midnight?
Is this really the way you want to live and lead?
Are you leading the way with technology in your home and in your workplace?
>> Leaders know that text is not a replacement for voice to voice or face to face. 
>> Leaders believe that technology enables connection… it's not the end all and be all way to connect.
>> Leaders choose to be present where they are without having their eyes constantly glued to a phone screen. 
Is it tough?  You bet. 
Does every beep sound like a siren alerting you to a potential earth shattering message?  If you said yes, you're not alone. 
Can the next generation of leaders learn that technology is amazing but not more amazing than being present where you are?  Not without our help.  
Raise your hand if you need to put back on your technology training wheels too
Maybe it's time we all put back on our technology training wheels to think about how we want to engage on technology and when the phone trumps a text and when meeting face-to-face is the best solution.  If your blood pressure rises every time your phone is farther than arm's reach… go back to the basics and ask yourself if this is how you really want to live.
Break the Frame – Tech Addiction Break Through Challenge:
I admit, I'm not a perfect role model in this case… especially with Twitter too.  However, I learned an important lesson in 2014…
I turned off all Twitter notifications and I survived. 

I've left my phone at home and I survived. 

My phone battery died and I didn't frantically look for a plug, I survived. 
Here's YOUR challenge:
Turn off your phone, leave it in a drawer or in another room.  Focus on the people in front of you and watch the magic happen. 
Does technology 24/7 serve you or are you getting served?