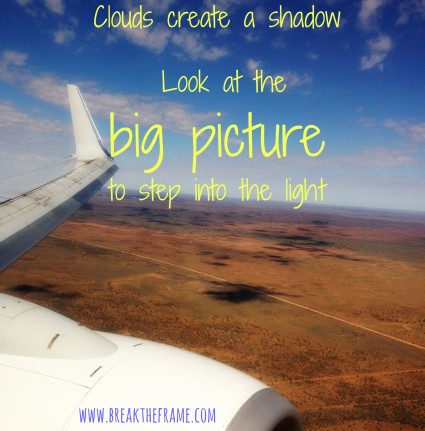 I'm back in Australia after a few weeks visiting in the USA – it was a wonderful whirlwind but also stressful, difficult and tension filled. I became consumed by lack of sleep, the heat, family arguments and not enough time to relax and get everything done that I had on my hit list. I felt like a cloud of stress was following me around and it was hailing ice balls of business, family and life issues down on my head. Instead of reaching for an umbrella or seeking shelter, I just got more and more frustrated as the hail grew in size.
Then I got on the plane to go home and things became much clearer as I flew high above the clouds.
"When we take a step back, we can see others for who they are, not who we want them to be." ~ Alli Polin (Click to Tweet)
An Ah-Ha Moment:
I had been walking around with a cloud over my head and did not notice that somewhere along the way, I had stepped out of the light and was playing in the darkness. In the shadows, nothing shines, and mediocrity thrives ~ not a place anyone would choose to live.
"Under the shadow of the clouds, there is no sparkle, no inspiration, only shades of gray. " ~ Alli Polin (Click to Tweet)
It took getting on a plane, and up in the air over 35,000 feet, to see the problems that I thought were so big from an entirely new perspective. Mountains look like molehills from the air and small details become a part of the bigger picture.
Here's the Question:
How can you see the big picture from earth and get out from under the clouds that have been following you around?
Take a break – It's easy to get caught up in what's going wrong to the point it's all consuming; we completely lose our ability to see what's going right. When it feels like there is no good choice available, that's the perfect time to grab a coffee, take in a movie, or a quick nap. There is always another choice but we just need to step away, give our minds and heart a short rest, so we can once again engage with possibilities.
Move to create a shift – Small shifts can lead to big changes in perspective. Even simply getting up from your desk to process a problem or an issue somehow shakes loose new thinking. Work from a new conference room or hit a new coffee house with the way you see the world will shift with you as the big picture starts to emerge.
What if it's me?? – Life can be hard when you're the only one that's right and everyone else is always wrong, wrong, wrong. It may seem laughable to even suggest but… could it be you? Ask yourself, "what if it's me?" and be prepared to accept that  maybe, just maybe, you have a role in the turmoil that's swirling around you.
Set an intention – Intention creates reality. Funny, right? Intention is deeply connected to the big picture – it's not about how, it's committing to creating something special, beyond the headaches and the hail.
"Intention declares to the universe what you want to create and your unwillingness to let the crap of daily life derail you from your bigger game." ~ Alli Polin (Click to Tweet)
Don't travel alone – When you're hanging out under that cloud, do you know who your trusted advisors are that will tell you to freakin' move to the light? Who will not let you settle for standing still? Who will remind you that your dreams are not going to be easy but are worth every struggle, every conflict and every set back? Who will demand that you remember your "why," get centered, and that the big picture will show you the path to where you want to go even when you're feeling the most lost.
The world is quiet at 35,000 feet, the air is cold, and the path is clear. You can do it – you can take a deep breath and fly above your problems, hail and headaches whenever you need to reconnect with the big picture and your "why."
How do you successfully step back to see the bigger picture when you're stuck in the pain and confusion of the details?