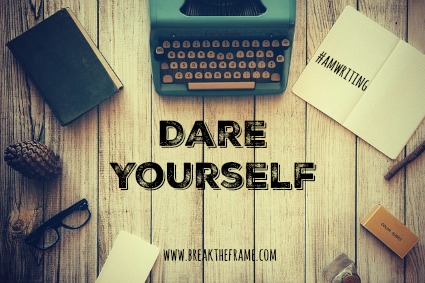 This weekend, I decided I'm in a rut.
When I go to my favorite restaurants, I order the same thing every time.
We spent our weekend at home doing… not much.
Business is moving along but not inspiring.
A rut.
Frankly, I'm tired of being in a rut. As I was thinking about what I could change, heck, have to change, I decided to give myself a dare.
Early on in my blogging, I posted twice a week. That may not seem like much to those of you who do not blog regularly, but it took a lot of effort. Eventually, I moved to once a week convinced that beyond that, I didn't have much to offer of substance.
It was impossible for me to do more than once a week. Impossible. (Funny how self-imposed barriers are often the strongest.)
With my, oh-my-gosh-how-could-I-ever-do-more blogging schedule, some weeks I have an idea, and the words flow.
Other weeks, my rut and I struggle for a topic, and I sit, fingers on keys, looking at my screen and waiting. No, not for Godot, for inspiration.
Ruts suck.
It was time to up my game, get uncomfortable. My brilliant idea of the evening was: "Dare Yourself."
My kids play truth or dare and love the dares.
When was the last time I dared myself go to beyond my limits? Yeah, can't remember.
Last night, since it's impossible for me to blog more than once a week, I decided to write for 365 days in a row.
Okay, that seemed a bit intimidating.
Then I decided to write for 30 days in a row. I could do almost anything for 30 days.
That's when I decided to start on the first of the month. The perfect date to measure 30 days.
Silly, right? The waiting. The excuse that it's easier to count to 30 when the calendar does it for me.
I'm starting today.
For 30 days, I'm going to write. A bunch of it will likely show up here, on my blog and bits and pieces other places like LinkedIn or Medium. Other daily finger tappings will yield something that may inspire me to take a deeper dive weeks or months from now. (Thank goodness for Evernote).
The last time I wrote for 30 days in a row, it was NaNoWriMo. Now, less than two years later, I have a novel I'm finally ready to submit to agents.
Who knows what the next 30 days will bring but I'm excited to find out.
Over to You. Come on, Dare Yourself.
What one thing can you do to shake up your routine and stretch yourself?
Here are the ground rules:
Think about that idea that just popped into your head and turn up the volume
Don't freak yourself out with a massive goal (like something you MUST do for 365)
Tell someone (hey – post it here in the comments below!) Accountability, ya know?
Start now
Reflect – if you did it or didn't do it… either way… what did you learn?
Easy peasy. Don't talk yourself out of it. Today is day one. I dare you to join me.