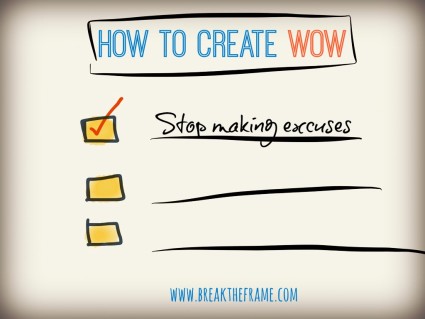 It's easy to have a great idea that lights you up.  It's much harder to go after it and make your idea your reality.  It takes commitment, confidence and creativity but it also takes a boatload of work not to mention an "I-know-I-can" attitude.
In the early 1990s I had a wowza of an idea – an internet cafe!  I know what you're thinking… ummm, Alli, cybercafés are dead. Yeah!  Of course they are, but for a time they were both hot and necessary.  Here's the thing, I had the idea before I saw one.  This is not a story about how I opened the first internet café and rode that sucker for as long as it was viable.  This is the story of how I didn't.  What did I do?  I bought a really big, thick and complex book on LANs and WANs, kept it on my bedside for a while and eventually in a drawer.  Dream, gone.
What replaced my dream of awesome coffee and reliable internet access?  Excuses. 
If you're human, (hopefully that's the case – I'm not writing for robots or zombies!) you have probably made up an excuse or two or 30 about why your idea is a bad one and could never fly, right?  Let's get those excuses out in the open.  You're not the first person to convince yourself to stop short of creating a meaningful change or launching a new business idea.  Why not be the person that kicks the lies to the curb and makes things happen?
30 Excuses to Lose Today
1.  I'm not ready
2.  Too many other people are already doing it
3.  I'm just not as good as some others
4.  It's not the right time
5.  It will take too much time
6.  I don't have the money
7.  I have too many other things to do
8.  I'm too tired
9.  It's a silly idea
10. I need to be more serious
11. It's too hard
12. If it was a good idea, someone would have done it already
13. People depend on me. I don't have time for playing around
14. People will laugh at me if I tell them my idea
15. I'm just a (your title here) how could I possibly be a leader?
16. Who will care about what I have to say?
17. My time is better spent playing Candy Crush than investing in a pipe dream
18. I can't
19. There is someone else that's better
20. This is as good as it gets
21. It's impossible without a team
22. It's too big
23. It's too small
24. I'll work hard and won't make a splash
25. Nobody will care
26. My ideas are lousy
27. I don't know what to do
28. I'm not creative
29. Nobody is in my corner
30. Can one person really make a difference?
Any of these sound familiar?  What are some of your other favorite excuses?  Who's ready to raise their hand with me and dump the excuses?  
There's no time like now to create what you most want.  Why wait?
For coaching, consulting or speaking Let's Connect!