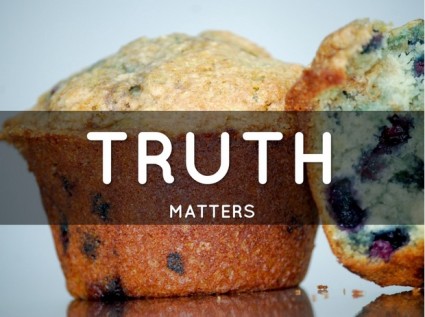 When do we learn to lie to spare the feelings of others?  How do we come to the point that we are unable to be honest and open or straightforward and caring?  Why is even positive, constructive confrontation viewed as bad and little lies good?  It's a behavior that we see over and over from senior leaders, mid-level managers, customer service reps, parents and children.
Earlier today, I took my children out for a treat at a local coffee shop after school.  My son got a chocolate mud muffin but I knew from prior experience with this coffee shop that the muffins look better than they taste.  When he was full, he offered a bite to my daughter.  As she took the bite he asked with love and anticipation, "How do you like it?"  Three things happened all at once.
She looked like she was going to throw-up
I encouraged her to swallow – it's not that bad
She gave him a smile and a thumbs up in response to his question
She wanted him to feel good so the lie seemed easier then telling him the truth: the muffin tastes like cardboard and crunchy bits.  She's resourceful and I'm sure she could have found a kind way to let him know that she did not enjoy it.  Instead, confrontation was avoided and feelings spared.  Still, when he offers her a bite in the future, and she declines, he'll wonder why since she liked it so much this time.
Leaders that lie to spare the feelings of their team aren't doing them a service but are instead missing an opportunity to coach, mentor and help people change their behaviors or grow new skills.  Not to mention, leaders that trade the truth for a white lie are holding back organizational success.
"In the middle of difficulty lies opportunity"  ~ Albert Einstein
Leaders that learn to speak the truth not only build trust but also embody integrity, respect, and authenticity.  In fact, you may not realize that the lies are about you…  not the person whose feelings you are sparing.
| | |
| --- | --- |
| You TELL YOURSELF | You MEAN |
| I don't want them to feel bad. | I want them to like me. |
| I don't have time for this. | I matter more than they do. |
| I can't trust them with the truth. | I only trust myself. |
| They won't understand. | I don't really understand. |
| It doesn't really matter in the long run. | I'm not invested. |
Here's a leadership Stop – Start  – Continue to get over the lies and start building relationships based on truth and a desire for shared success:
Stop saying "I value transparency" – live it with integrity
Stop the white lies – they're still not the truth
Start having honest conversations while holding an awareness of the other person's humanity and feelings
Start asking others to be real (and respectful) with you
Start authentically responding with courage and caring
Continue to look for ways to keep the people on your team happy
Continue to love your people so much that you'll stop at nothing to let them know they matter
Trust is impossible without the truth, and without trust, you may have a senior title but you are not a leader.  Stop sparing feelings and be a leader that values and respects people enough to be a model for leading from the truth.
What would you add to this Stop – Start – Continue?