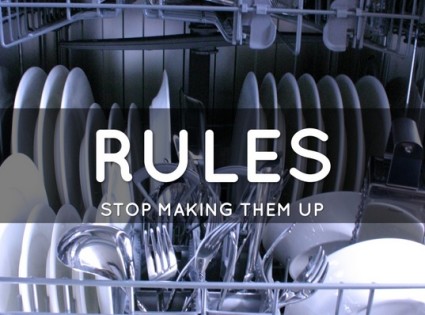 I can't believe my dishwasher is broken again. Over the past seven months I've had it repaired three times and replaced four.  Yup, four new dishwashers (love that warranty!) in seven months and once again it's flooding my kitchen.  Now the question is, do I call for another repair or finally get the message?  To date, I haven't felt like I've had a lot of choices so I've hung in there with repairs and crossed my fingers that this will be the time it's fixed forever.
We all make up rules and take them to be facts, immutable truths that we need to simply accept.  Some written, some only imaginary, yet they all dictate how we act and react to situations. 
What rules are you making up?
I can't leave my job because my options are still vesting
I'm unable to delegate any of my work since it will not get done as well as I can do it
Sleep is for when I'm dead
My child can't bring home anything less than an A from school
Whether you're at your wit's end with your job, your boss, your business or your appliances, you can change your results by uncovering, evaluating and breaking the rules that dictate what you, and others, can and can't do.  They're holding you back from options that you have never considered or simply thought were too outlandish to action.
Here are the rules I made up for myself about the dishwasher:
I have no choice but to get repairs
I cannot do dishes by hand
While under warranty, I should continue to get new ones that may not be defective
"Insanity: doing the same thing over and over again and expecting different results."

~ Albert Einstein
How to Break the Rules and Change Your Results in Ten Minutes or Less:
1.   Get Awareness: Write Down The Rules
Pick a particular situation that is driving you nuts and you're ready to make a change.  Take five or ten minutes to fly up to 30,000 feet and take a look down at your situation from high above.  From that high up you can separate out your perception of the situation from the rules under which you're operating.  (Example of a perception is: my boss thinks I'm stupid.  Example of a rule you've made up as a result is: I can't ask my boss for clarification and additional direction.)  Don't hold back because you think your rules are crazy, but instead, defer judgment, reflect, write and then write some more.
2.   Get Honest: Fact or Fiction
Now's the time to look at your rules with a critical eye and ask if each one is a fact, or simply a belief.  It's harder to change the facts but you can shift your beliefs by trying new approaches to old problems and experiencing the results.  Pick out the rules built on the shoulders of beliefs and take a beat to really ask yourself: If I let go of that belief, would new possibilities be available to me?  Evaluate, rinse and repeat for each rule on your list.
3.   Get Clear: What Do You Want?
This question may seem simple on the surface but the deeper you go, the more you'll learn, and the more creativity you can bring to new solutions.  This is your chance to create a big vision.  Playing it safe and small:  I want to get along with my boss. Playing big: I want to become a trusted advisor to my boss.  One has a clear course of action and takes the situation to an entirely new place while the other is a bit like a bandage covering a broken situation with smiley faces.
 4.   Get Creative: Brainstorm
The scoop on brainstorming is that no idea is a bad idea.  This is not an action plan; it's a chance to throw out big, crazy and silly ideas that may actually grow into inspired action.  Nobody has to see the list but you so be real and outlandish with your ideas.  If you have a coach, trusted friend or colleague to brainstorm with you and push the boundaries even further – go for it together!  Time yourself, and see if you can come up with at least 20 ideas in three minutes.
5.   Get Confident: Act
Will new approaches and ideas yield new results?  The only way to find out is to get into action.  Look at your brainstorming list and commit to what you're actually going to do differently.  Pick at least two or three and then tell someone what you're going to do (accountability always helps) and DO IT!
If you're nervous about breaking out of your comfort zone go back to your vision of what you really want.  How important is it to you?  My advice is to take risks that stretch you.  Safety is over-rated.
NEW RULES:
There are no rules other than the ones you make up
Not getting results?  Change the rules
Looks like an entirely new dishwasher may be in my future!
What rules have you made up that are holding you back?  In what areas are you ready for bigger and more impactful results?