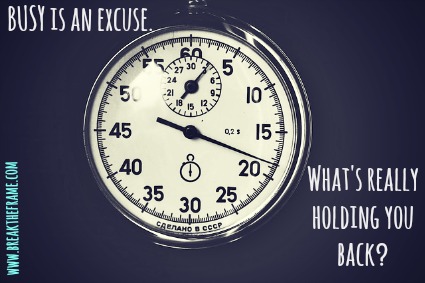 I was catching up with a friend over coffee when suddenly he got quiet and stared into his cup. Whatever was on his mind, he didn't want to come right out and say it; instead, he decided to beat around the bush.
"What do you do all day?"
"Who works with you?"
Gee, a lot of interest in my business.
Not knowing where he was going, I stayed high level.
"I'm a coach, and I help people have a full life and achieve professional success. They aren't mutually exclusive."
Then, I turned the tables. I didn't want to talk about my work – something was going on with him despite his coyness.
"What do you do all day?"
"Who works with you?"
That's when it came out.
The feeling of being lost.
Unsure.
"I'm busy, though. Don't really have time to add anything else to my plate."
Who was he reassuring? Me?
"But there are some things I want to do and just can't find the time. It's hard you know. "
Funny to add that. I didn't ask; didn't accuse.
"Why do you think I'm not getting to it. Busy right?" 
Was he asking me?
Like I could possibly know his motivations?
What would fulfill him?
What would make his heart sing when it has been silent for so long?
What was missing and why it mattered?
He was asking me because he wanted to be excused for not trying.
Too hard.
No time.
Too busy.
No funds.
I couldn't hold back. One question and he was the only person who could answer it – if he was willing to be truthful with himself.
"What if instead of busy, it's fear?"
"Fear?"
Fear you'll try and fail.
That it will be too much.
Too hard.
You'll put yourself out there and stagnate.
Or worse.
"It could be that."
Action is more than what you do, it's what you don't do too.
You don't try; you can't fail.
You buy into excuses; you justify your life as-is.
He was quiet.
"I want more."
"So do I," I echoed.
I offered to help, support, encourage.
"That would be great. When I have the time, I'll let you know."
Do you think he'll call? I don't.
What conversation are you having with yourself? Is it keeping you where you are or taking you to where you most want to be? More importantly, who you most want to be.