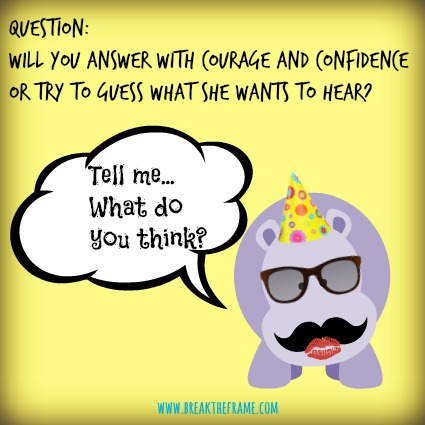 I can remember the moment the COO looked me in the eye and she asked what I thought of the candidate we just took to dinner.  I didn't like the candidate for many reasons, but I figured if she made it all the way to dinner with the COO, a lot of people must have loved her throughout her interviews.  I was nervous, had intense butterflies in my stomach and the clock even seemed to slow down.
The moment of truth: Would I share my concerns or cave into peer pressure and say she's great?
Then I remembered that leaders give feedback in service, not fear.
What did I have to be afraid of really?
Not agreeing with a senior leader?
Having a dissenting opinion?
Come on!  There are a lot better things to be afraid of in life, like huge spiders and sky diving.  Giving feedback and sharing your opinion should not be high on the "most feared" list.
What I really should have feared was giving the green light to a candidate who was a poor fit for our organization. The damage she could do to our team would be far greater than any damage I could do to my career by speaking my truth when asked.
Service Erases Fear (or at least quells it)
Remember: 
When you reframe your action in the context of service it's no longer about you and your nerves.
Feedback is information and it's about how and why you share it, not the fact that you have to give it.
If you want to play your part to ensure the success of others, and not only yourself, honest feedback is critical.
Learn How Leaders Give Feedback from My Nine Year Old Son
Recently, I've been making videos for a course I'm about to launch. Every day when the kids come home from school, I'm quick to ask if they want to see my latest video.  They're both sweet and patient so over their afternoon snack they'll humor me.
After they watch the video of the day I ask, "So, what did you think?"
Usually, I'm told it's wonderful, a 10 out of 10!  (They are my kids after all.)
On this occasion, my son shared with me "It's wonderful!  I'd give it a 9 out of 10 and I'll tell you why…" and he did.
His feedback was:
Given in service of making my product stronger.
Shared with love.
Offered with confidence because he owned his opinion.
Experienced as both encouraging and specific.
Delivered without fake flattery and totally honest.
Moreover, he didn't just share his thoughts and disappear.  He asked what I thought about what he had to say.  He offered to show me what he meant real time and to go back through the video with me.  He gave his feedback in service of my success because he cared enough to be invested in my success.  
Zoom back to my dinner with the COO and our candidate. 
I told the COO that I didn't think we should hire her and shared my reasons why.  I spoke in service of the success of our team and in service of the candidate too; It's hard to make an impact when you're a poor fit for the role and organization.
Once I stopped speaking, the COO looked at me and told me that she admires people with managerial courage and thanked me for my thoughtful and honest response.  Then she shared what I never would have guessed… she didn't love the candidate either and we would not be extending an offer.
I spent energy, assuming I knew the right answer and also assuming my response was the wrong answer.  Oh how wrong I was!  This was not a test with right and wrong answers, it was a test of my leadership.  It was a test for me to get out of my head and speak the truth because it was the right thing to do.  Even if the candidate was hired, I would rest well knowing I shared my perspective honestly, in service and with courage.  That's all any of us can do.
Feedback serves the purpose of enabling another to know where we stand and how they can grow.  After that, it's up to them if they choose to listen, act or react.  Be a leader who gives others your best by giving feedback with heart and in service of them being and doing their very best.
What about you?  How have you been able to break the frame that feedback is somehow about you and tap into a service mindset?
For coaching, consulting or speaking Let's Connect!