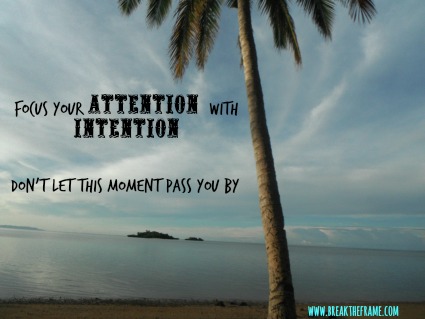 I could not wait for vacation!  Although I struggle to let go of my day to day on most holidays, I was longing for time to unwind, relax, and leave work and stress behind – if I couldn't do it in Fiji, it was never going to happen. However, sitting in a lounge chair was not the panacea I expected.  I was far from in the moment… In fact, I was in awe of the moment.  Immediately I knew that my choice was to either experience this holiday as an outsider or to step into my experience by practicing some mindfulness basics. 
The view in front of me was unbelievably gorgeous.  I held my Kindle in my hand, not reading, but instead staring at the calm, clear blue water meeting the blue horizon with a few clouds slowly making their way across the sky.  I turned to my husband and asked: "Are we really here?  This feels surreal."
Don't get me wrong, I was happy and felt very lucky to be there, but my brain and my experience were not working together.  I was processing not being, seeing without feeling, and doing, well, not much more than staring out into space. 
Mindfulness was the key enabled the out of body experience I was having to become grounded.  My peaceful surroundings transformed into an internal feeling of peace. I was present, alert and focused on the moment without worry about Twitter, my blog, where I'd be able to get a wifi signal, dinner, or even if it was going to rain later in the day. 
Why Mindfulness?
Before I charge into a few mindfulness basics, let's get clear on why it even matters. Probably more than a few of you consider mindfulness to be yet another new-agey buzz word or fad. Truthfully, it's a quick and dirty way to let go of all of the crap swirling in your head and be in the moment, now.  Who doesn't want that?  Ya with me?
Imagine.  You leave a meeting with a to-do list that is slightly longer than the length of your arm, your colleague threw you under the bus and you have no idea how you're going to squeeze in lunch between your conference call and your next meeting. You walk down the hall, press the elevator button and walk like a zombie back to your office with your head full of frustration, stress, and mental planning.
Imagine leaving that same meeting with the same to-do list.  This time, you take the stairs.  You intentionally decide to focus on the sound your feet make as they hit each step.  You notice how loudly the door closed behind you and how cool it feels in the stairwell.  With each step you take a breath and sink into the quiet… even your head is quiet from the noise that was there only moments before. In only a few minutes time you exit the stairwell with less swirling thoughts and less stress too. 
Mindfulness Basics for the Over-Worked, Totally-Stressed, Peace-Seeker in YOU
Here's the great news: mindfulness does not have to be a complex practice.  I'm not one for meditation or heavy duty journaling, but mindfulness is something that you and I can do anywhere, anytime.   The key ingredient is the intention to be in the moment. 
Think: 
Where are your thoughts?  On your last meeting?  Tomorrow's big presentation?  Notice your thoughts instead of letting them pass by a million miles an hour.  A judgement popping into your mind?  Make the choice to let it go. 
Feel:  
What are you feeling?  Angry?  Frustrated?  Hot?  Cold?  Notice the physicality connected to your feeling.  
Sense:
Get curious about what's present.  Smells?  Tastes?  Sounds?  Don't shut them out, step into the present moment.
Do:  
Turn off the auto-pilot and bring a heightened awareness to all that you're doing.  Riding a bike?  Feel each push on the pedal. Walking the hall? Feel your foot meet the floor.  Notice your clenched hands and open them up to let things go. 
Back in Fiji, I dove into the water to ground myself in the reality of my experience.  Sitting on my chair was too removed, I was a spectator, and the feel of the cool water woke me up.  Staring off into space I noticed my stress that I didn't have wifi to respond to blog comments and made the choice to just let it go. 
I stopped staring into space and instead focused on how the light played on the water and the variations in color.  With each dive under the water, I was waking up to the moment – one I didn't want to miss. 
I'm home now revived, energized and ready to be fully engaged in my adventure instead of only focusing on what's next. 
This is one of a few posts about lessons from Fiji covering mindfulness, the power of people to transform an experience from good to great and the negative impact of a self absorbed org culture.  Look forward to sharing the aha's with you and learning from your perspectives and experiences too.
Do you practice mindfulness?  What tips would you add to this list of mindfulness basics?