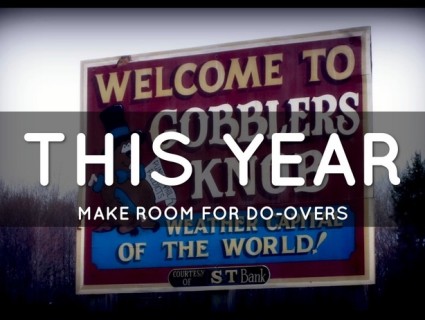 It's the end of the calendar year and New Year's resolution time again.  You know – those things you resolve to do and put off until January 1st to start doing.  For most of us sometime between February 1st and April 15th New Year's resolutions are long forgotten or at least abandoned on the side of the road.
What do your's sound like this year?
I resolve to:
Be better…
Do more…
Do less…
Finally…
Really…
Lose…
Gain…
You might as well say:
"I suck the way I am so I resolve to change."  It's as if you've failed before you've even started if less than 100% resolution follow-through means you're left somewhere you don't want to be.  Is success found only in the final goal achievement or it also in the trying?
This year, instead of a New Year's resolution, let's try out New Year's do-overs.  Better yet, instead of starting with a bang and ending with a fizzle, make this year your Groundhog Year.
I love the movie Groundhog Day.  Phil, the main character, portrayed by Bill Murray, wakes up every day and it's the same day; Groundhog Day.  At first he's frustrated but then he starts to really take advantage of each and every day as a gift.  He chooses to make incremental progress toward being a rock star of a human being.  Many days he falls short and doesn't quite make his goal and other days his timing and skill are absolutely perfect.  Phil doesn't give up if he gets off course because every day is a do-over.
If you must go down the New Year's resolution path, give yourself a break if your resolve becomes an "I wish."  You know, it's not too late to reframe your resolutions.  January 1st hasn't passed.  Success or failure, resolutions should be about learning, growing, flexing and adjusting, not conquering.
Find your inner Phil.  So what if you mess up.  There's always tomorrow.
How do you plan to stretch and challenge yourself during your Groundhog Year?