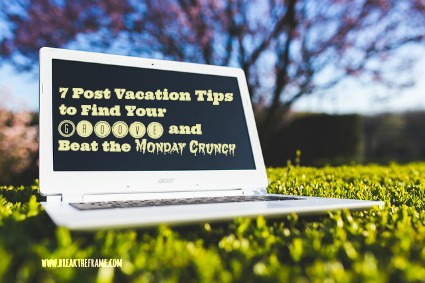 Hopefully, you're not like the 40% of Americans who leave nearly half of their paid time off untouched each year. It doesn't help you to work non-stop as your stress levels soar, and it doesn't help your organization either.
If you're thinking:
Nobody can fill in for me!
I have too much work on my plate!
What if they catch on that I'm not irreplaceable?
My boss needs me!
I don't have the funds to go anywhere good!
I'm too committed!
Get over it.
Workaholic is not a compliment or badge to proudly wear on your back while you're sleeping on your desk at the office. You have vacation time to create a full life; you do not live in a one-dimensional universe where the only successes that matter happen at work.
Enough preaching.
Let's assume vacation time in the bank is a reason to brainstorm and daydream about your perfect getaway or week of blissfully sleeping in during a long-overdue staycation. Here's the trick to taking it: Block your calendar and book it.
We all know what comes afterwards – Monday, back at the office.
It sucks.
It's hard to get your brain focused on work again.
Oh, and the piles of work. Sigh.
Come on, it's worth it, isn't it? No complaining.
(By the way, if you're one of the people who use the Monday workload as a reason to not use your time, you're missing out, it's worth it. You can find your groove after vacation and manage the Monday Crunch.)
Let's reframe the Monday Crunch from being the worst day ever, shall we?
You just took a week off.
Pretty awesome.
It's another Monday; there's one a week. You'll get through this one too.
Yesterday, I got back from a week at the beach and already the memories of the glittering ocean are fading. For months, we looked forward to it with anticipation, while there we had a good time, we blinked our eyes and it was over.
Hello, Monday Crunch.
Email three miles deep.
Calls to return.
Work to crank out.
Not even thinking about the fact that the fridge is empty.
I'm not ready to let go of the glow.
7 Post Vacation Tips to Find Your Groove and Beat the Monday Crunch
TIP #1: Control Your Calendar
Remember how you blocked your calendar during vacation and hopefully remembered to put on your auto-responder? Do it through Monday. Yes, you're back and digging out but a full day of meetings and your phone ringing off the hook won't help you get back on track. If the idea stresses you out too much, skip the auto-responder on Monday (or put on a new one for the day). Block that calendar!
TIP #2: Avoid Immediate OT
Don't work overtime on Day One back at the office. Let the vacation glow linger through Monday (and longer if you can). There are real health benefits from taking time off including lower stress and less risk of heart disease. Why erase them within 10 hours of returning to the office?
TIP #3: Connect Before Email
Instead of taking most of your day to go through emails, sit down with key players on the team early in the day and catch up. What did you miss? What do you need to know? What's already been resolved and no longer needs your attention? If you can't bring yourself to delete emails without looking at them, skim. Make delete your friend – your team had you covered.
TIP #4: Glow Don't Gloat
Don't be a social flower. Yes, it's important to build personal connections at work but if you're going from desk to desk glowing about your amazing holiday, half the day will be gone before you know it. (also, glowing may quickly be interpreted as gloating) Grab a coffee with a friend or head to lunch to catch up.
TIP #5: Lists Help
Make a list of things you absolutely have to get to today and don't make it 92,000 items long. Pick three to five max and crank them out. Find satisfaction in progress on the things that will have the greatest impact.
TIP #6: Be Kind to Yourself
Go easy on yourself. If you're not completely caught up by close of business, it's okay. Give yourself a few days to completely dig out and get back into your groove.
TIP #7: Self-Care
Don't spend all night lamenting that you didn't get through everything. After work unwind with family or friends, get some exercise, and a good night's sleep. Hold on to your vacation glow by keeping self-care front and center.
Will you share your post vacation tips to successfully head back to work without immediately losing your glow?