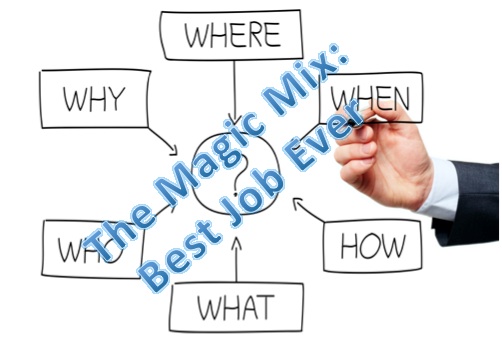 Years ago, I was a part of a team that transformed the way that I think about work – it was my best job ever.  While working for a big management consulting firm, my team and I were charged with re-inventing new hire orientation for a large pharmaceutical company.  Sound exciting to you?  Somehow, I was a part of something that, instead of being mundane, sparked my passion, creativity and desire to create something magical.
I literally could not wait to get out of bed and go to work in the morning and at night; I was disappointed it was time to go to sleep. 
Together, we created the largest theatre based business simulation training in history.   That's something not one of us on the team could have done alone.
What was it that not only made it exciting but also inspirational and a milestone in my career?  Here's the magic mix that I can put my finger on:
Think Big
Our team didn't think about small tweaks to the process that would make it incrementally better.  We left behind been there, done that thinking in exchange for "what if."
Creativity
We played with ideas.  When brainstorming, we knew what hats we were wearing and instead of shooting down crazy ideas, we built on them and made them bigger, crazier and even more improbable until… we collectively drew our breath and realized we were on to something and it was time to get focused.
Innovation
We narrowed down our challenge to delivery before we could move to the next step of real design and development of our solution.  People on our team had solid experience with some of the paths we were bantering about and were confident that we could make it work.  I can remember sitting down with my manager and telling her why I thought we should take a more radical, unknown direction.  Actually, I mostly remember the moment she said "OK, let's pitch it."  WOW.  It hit me, creative ideas were conception; innovation was about giving birth to the unknown and seeing it make an impact.
Cool Work
I found myself doing work at the intersection of my hobby, passion, skills and knowledge. Even the most boring tasks on the workplan took on a little more sparkle.  Doing cool work does not mean that it's just doing the "fun stuff" but instead staying focused on the bigger vision where every detail fits and matters.  It was a balance between corporate and creative that made the work cool – it wasn't just one or the other, and my skills were growing in a zillion directions all at once.
Trust
Not only did my manager put her trust in me, the entire team put their trust in each other.  While we were using our skills in change management, learning, and training delivery, we were at the far edge of our experience.  A key to our success was brainstorming, challenging and trusting each other.  When things went wrong, we still needed to remain a cohesive team to make things to right.  I had to trust that while I was focused on my part of the program, my colleague was doing their best, equally committed to me, while working on their part of the program.
Commitment
We were all engaged, all committed and all driven to make our vision a reality.  While some members of the team were certainly more vocal in their negativity, it was their fear speaking and had nothing to do with their desire to be on the team.  I was not the only one happily awake at night thinking about next steps and excited by the challenge ahead.
Practice
Yes, we had run-throughs and more run-troughs.  We didn't wing it.  After every run-through we got together as a team and didn't point fingers but instead acknowledged our learning, discussed our new-found holes in our plans and celebrated that we caught them before go-live.
Accountability
Everyone on the team had his or her own responsibilities.  While we brainstormed together, challenged each other and worked on shared tasks, we were also accountable for getting our individual work done.  We were building a new hire orientation but we were also like masons, creating a strong wall that didn't need cement because all of the parts fit so perfectly together.
We had 600 new hires from a sales force expansion go through that first business simulation we created.  The dream continued when we were also engaged to make it even bigger for a new product launch.
Maybe we were too young in our careers to be afraid of failure.  I'm not sure why we took on such a big solution to the challenge but happy to have been on the ride.  It is one of the milestones that brought me to where I am today.
I learned:
Creativity isn't reserved for artists – we can all find opportunities for creativity and innovation if we look for them
People really do have jobs that make them jump out of bed with delight
Working with a committed team is inspiring and powerful
Innovation brings creative ideas to life with impact – it's not only about novelty and creativty
Leaders that trust their team, regardless of age or experience, and truly empower them to engage and run… can create something magical
While I love and am passionate about my job today, I can't deny the magic of my best job ever.  If you ever want to take on a live, goal-based business simulation, you know the gal to call!
Have you had a job that made you jump out of bed?  What was your magic mix?