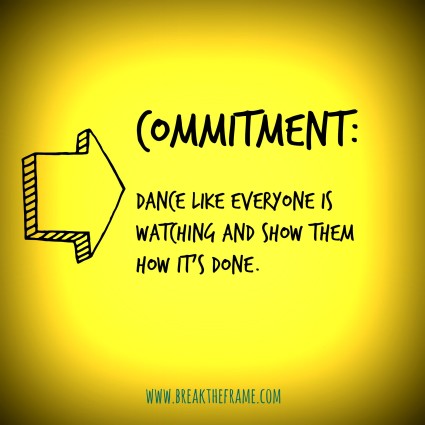 You've probably seen this guy, Chris Koo, do Beyonce's Crazy in Love dance, but I was mesmerized as I watched it again this week. Yes, he's a fantastic dancer, but that's not what drew me in, it was his commitment, passion and sheer joy that sets his dance apart from so many other imitators.  If you've ever wondered, "What does commitment look like?" this is it.
Chris is all in without even a split second of self-conscious, half-way indecision. There's no judgement and no holding back in fear that he won't get it right. There is gusto and a deep feeling of being in the moment with every head flick and thrust. It's something that we see all too rarely in life, let alone at the office.
They say imitation is the sincerest form of flattery, but only when we bring our whole self to the task and don't settle for looking the part without feeling it too. It's feeling that fills the hollows of our outward motions and creates synergy, connection, energy and engagement with others. The absence of feeling will fall flat every time.
Does your commitment shine through?
What if you danced like Chris around your office? Your friends? Family? (metaphorically of course!)
Would you multitask?
Check email on conference calls?
Keep your ideas to yourself?
Silently criticize everyone's effort without sharing any constructive feedback?
Nod and fake smile when someone comments on your work?
OR
Would you get up out of your seat during brainstorming sessions?
Ask questions not to poke holes but to deepen understanding and expand possibilities?
Allow yourself to enthusiastically share your ideas before they're fully formed.
Tell people how much you appreciate them and allow yourself to gush about it?
Forget dancing like no one is watching. Today, dance like EVERYONE is watching and show them how it's done.
When was the last time you were so in the moment that you leapt over conscious competence and went straight to passion fueled, energetic, all-out engagement?  Tell me… what does commitment look like for you?