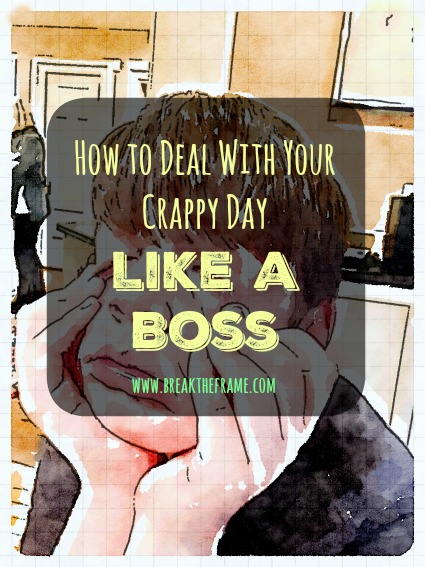 We all have those days. You know, from the moment you wake up, your spidey sense is tingling and telling you to watch out, crappy day ahead. As if you are a world-class fortune teller, the day unfolds as expected.
On incredibly crappy days it's not as if one thing goes to hell, it all does. Maybe it starts small, like terrible traffic on your commute making you late for a critical meeting. Since you're late for the meeting, big decisions are made without you. Of course, the people who made the decisions didn't have the full story and now your workload has doubled, and timeline halved. To top it off the school nurse calls and tells you that your child has lice, come and get them immediately.
Crappy.
Incredibly crappy.
Sucktastic.
Okay, you can either go home and get back under the covers, close your eyes and hope it's all a bad dream, or you can use this five-point strategy to get through it. Notice I didn't say to turn your crappy day into one filled with sunshine and unicorns. Sometimes the best you can do is to persevere; the key is not to hide your head in the sand.
How to Get Through Your Crappy Day Like a Boss
Accept the Day is Off Track
When things go wrong, you can either get angry over and over or accept things as they are. Sometimes the worst things take you right to where you're meant to be (even when it absolutely doesn't feel like it).
Go Somewhere Private and Scream (or Curse)
It can help to let off some steam. Give yourself 60 seconds to freak out. Sixty. That's it. No complaining or whining or mumbling expletives for the rest of the day under your breath.
Treat Yourself to Something Good
On your worst day, you can still let in a ray of sunshine. Buy yourself a coffee, grab lunch away from your desk or take a walk. Do something for you even if it's only a small oasis amidst the day's crap.
Remain Positive
We see what we look for, and if you look for more crap, that's what you'll find. I'm not suggesting that you become a real-life Pollyanna but instead make a conscious decision to look for something, anything that's going right.
End the Day With a Promise for a Better Tomorrow
Before you go to sleep and carry the stress of the day with you like a ton of bricks, let it go. Breathe deeply and give yourself a release. Today is over; the crappy day is done. Set an intention for tomorrow to tune your spidey sense into the good and that's what you'll find.
What do you do when you're in the midst of a crappy day? What are some of your fave ways to cope?