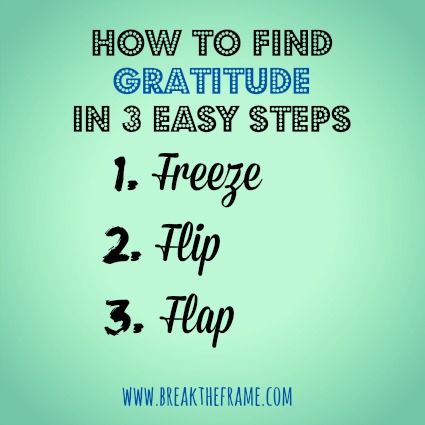 Even if you're not American, it's hard to miss that it's Thanksgiving in the USA this week.  Almost every blogger seems to be writing about the power of gratitude and why we should all take the time to be grateful.  I strongly agree that gratitude makes our lives richer and helps us acknowledge the abundance of goodness that we'd otherwise miss.  Still, for some, despite their desire to find gratitude, it doesn't come easily.  It's not because they're scrooges, it's because they've cornered themselves in the darkness and are struggling to see the light.
I live with a desire to lead with gratitude but sometimes I screw up, fall flat and have a pity party.  It's human and it happens to the best of us.
For example, my family will be gathering at my parent's home this Thursday.  My siblings and their kids will get to hang out for the weekend and eat my mother's amazing home cooking.  Together, they'll take part in the Thanksgiving tradition of cooking for hours, eating too much, and passing out in front of the TV.  Don't judge until you've tried it.
When my kids asked me if we're going to have Thanksgiving dinner at our house on Thursday too, I told them "no."  There is school the next day and my husband and I don't have off from work.  We'll celebrate Thanksgiving Saturday and it will be just as good.
Here's the thing, for a heartbeat, I felt like a liar.  How could it be just as good over 10,000 miles away from where we want to be?  I started to feel grouchy and frustrated that I was stuck making a meal for the 17 people I invited over.  I have no  pumpkin pie filling, sweet potatoes or cranberry sauce I can buy canned, off the shelf. I will have to cook it all from scratch and it's going to be a ton of work…  See where this is going?
Ready to leave the pity party and find gratitude?  Here's How:
When I was young I learned that to put out a fire you need to immediately stop, drop and roll.  I'd like to propose that when you're falling into the belief that gratitude is for only for the Pollyanna, you need to immediately freeze, flip and flap. 
Freeze
Once you catch yourself diving head first in to self pity, freeze.  Think of it like quicksand, the faster you move, the quicker you sink and will be crushed by the weight.  How do you know you're sinking?  Some of the signs are constant complaining, negative thoughts and snapping at everyone.  You're not feeling  gratitude and you're pulling everyone around you down too.
Interrupt your negative thoughts: Do what it takes to freeze even if you need to look in the mirror and say aloud to yourself, "stop it!"
I not only told myself to stop it, but also threw in a few expletives for good measure.
Flip
Whatever story you're telling yourself has a flip side, you just need to be intentional with the flip.  In my case, I'm lamenting cooking without pre-made help, distance from home and the number of people I've invited.
Ask yourself:  If this is true, when I flip it, what else is true?
In my case, my friends and family will have a meal made with love from scratch.  We'll catch up at home in the USA thanks to FaceTime and feel the love without falling into any old patterns that lead to inevitable arguments.  I'll also get to give thanks for new friends and enjoy sharing my traditions with them.
Flap
Once you've made the flip, flap your lips.  Share the gratitude.  Talk about it to make it more than just a thought, but to become a reality that you're accountable for embracing.
Talk it up:  Let yourself embrace the flip-side perspective, lean into it, and enroll others.
I've started telling my kids how much fun Saturday is going to be and how good the house will smell when everything is cooking.  The more I talk about it, the more grateful and excited I genuinely become.
I won't be making a turkey this Thanksgiving but I will freeze, flip, flap to reconnect with my gratitude for this life that I'm lucky to lead.
How do you drop self pity to find gratitude?  
For coaching, consulting or speaking Let's Connect!