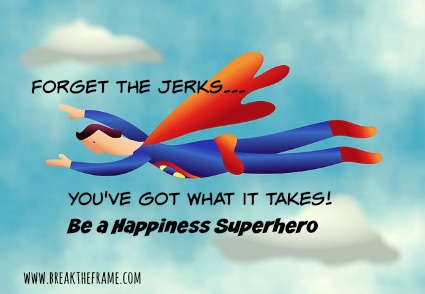 You know that person at the office (or friends or family) who drives you nuts? They're critical, snarky, and often downright nasty in a backhanded "who me?" kind of way. Oh, and they ruin your day on a regular basis. If you had any shot at happiness, they stomped, smashed and probably spit on it on their way out the door.
Come on. You really gonna let one person ruin your life?
You know what to do.
Let their comments roll off your back.
Forget about it.
Ignore the nasties and do what you're there to do.
In reality, it's not so easy.
I get it.
You want to be a happiness superhero and move on, head held high, but you just can't seem to do it.
How do I know? I've been there. We're both human, and our spirits are easily smashed by Mr. and Mrs. Nasty-nast… even when they think they're making nicey-nice.
Sound familiar?
Day in day out you start your day happy until "the moment." You know, the inevitable run in with that person who is a jerk-face.
10:00 AM
YOU: "They were awful. They don't have to speak to me that way. How do they expect me to respond?"
YOUR FRIEND: "Forget about it. Move on."
YOU: "You're right. I will."
11:15 AM
YOU: "What were they thinking? Do they think I'm stupid?"
YOUR FRIEND: "Who?"
YOU: "You know, from earlier."
12:40 PM
YOU: "I just don't get it. I was kind. Today sucks."
YOUR FRIEND: "This morning, right?"
3:55 PM
YOU: "I know they hate me. I can't take it."
YOUR FRIEND: "I hear you. They were pretty terrible."
5:50 PM
YOU: I'm leaving – see you tomorrow. I don't know how much longer I can take this. I still can't get over it. Hopefully, you'll see me in the morning."
YOUR FRIEND: "Ha-ha. I know you'll be here. Don't let this morning ruin your night too. They suck, you don't. Let it go."
6:45 PM
YOU: "You'll never guess what happened today. Worst. Day. Ever."
YOUR SPOUSE: "Let me guess. You know who was an ass today?"
YOU: "You'll love this…"
11:25 PM
YOU: "Honey, are you awake? I can't stop thinking about how much I hate you know who. I hate my life.
YOUR SPOUSE: "zzz zzz zzz"
Let's break it down.
1) Someone was awful to you.
2) This awful person made your day the worst day of your life (until tomorrow).
3) You did your best to enroll others in your misery.
4) You didn't change a thing.
Personal Power and Being A Happiness Superhero
When you let someone else's bad behavior dictate your happiness, you give away your personal power to them. Will you let them not only influence a moment your day but how happy you are in your life?
Turn on Your Superpowers
Your personal power is your ability to define and follow your path to happiness. When those derailers come along, look 'em in the eye and smile to yourself. You know something that they don't – you're stronger than they think.
Your other superpower is seeing through their unnecessarily mean demeanor. You can look past the bravado and beastly behavior and see the person who's lost, hurt or in over their head. Who knows, maybe they're just trying to impress someone else by putting you down. Regardless of their reason for being obnoxious and hurtful, they clearly don't know what else to do or a better way to treat people; you do.
Bring Your Superhero Cape
When I'm over the edge with frustration, I like to put on a favorite scarf and take about ten bazillion deep breaths. My scarf has a subtle scent of perfume I love, comforts, and reminds me that I am the one in control even when I feel out of control.
I have a friend who grabs her favorite sneakers and goes for a walk.
My son likes to play a round of Clash of Clans to begin to breathe again when someone has tried to engage him in battle in real life.
Pick a cape and don't be afraid to reach for it. Think of it as your barrier against your nemesis' kryptonite.
Accept Imperfection But Don't Be a Carpet – Choose to Fly
Bottom line is that we all have good and bad moments (ask me about my temper tantrum this morning). We're all entitled to show up as our less than perfect selves (no, not hourly).
If someone you know with good intentions (or maybe they really are evil and have terrible intentions) treats you like crap, and you can't let it go, shift your internal conversation. Focus on your personal power and not their craptastic acts.
When you place the emphasis on how badly they treated you, you'll never get far.
"When they go low, we go high." ~ Michelle Obama
You can't control them or their bad behavior, but you can choose how you react every single time.
Should you talk to someone who is mean to you? Yes. You are not a doormat, carpet or someone who deserves to be ridiculed. It may be time for a brave conversation. However, before you talk to them, take the time to reflect, refocus and change the conversation you're having with yourself.
Instead of: Why me?
Try: I'm better than this.
Instead of: I don't deserve this.
Try: I feel bad that they don't know how to deal with people. I do.
Instead of: They're horrible.
Try: They're human.
Instead of: They hate me.
Try: I love me.
Instead of: Worst. Day. Ever.
Try: Most. Sucktastic. Moment. Ever. And put on your cape.
Instead of: I can't let it go.
Try: I'm not going to battle. I've got better things to do.
Instead of: There's no way I can forget about it.
Try: Be a happiness superhero and tap into your personal power.
What's your tip for not letting a single moment define your entire experience? How do you remember to choose happiness even in the face of the nasties?